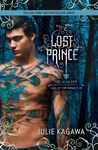 The Lost Prince by Julie Kagawa
My rating: 4 of 5 stars
Source: Netgalley (A long time ago)
Genre: YA Fantasy
Book Description:
Don't look at Them.
Never let Them know
you can see Them.
That is Ethan Chase's unbreakable rule. Until the fey he avoids at all costs—including his reputation—begin to disappear, and Ethan is attacked. Now he must change the rules to protect his family. To save a girl he never thought he'd dare to fall for.
Ethan thought he had protected himself from his older sister's world—the land of Faery. His previous time in the Iron Realm left him with nothing but fear and disgust for the world Meghan Chase has made her home, a land of myth and talking cats, of magic and seductive enemies. But when destiny comes for Ethan, there is no escape from a danger long, long forgotten.
My name is Ethan Chase.
And I may not live to see my
eighteenth birthday.
My thoughts:
I enjoyed taking a trip back to the Nevernever with a new generation of characters.
Ethan is the Iron Queen's brother. He has had a lot of bad things happen to him in his life. One of the worst was the disappearance of his sister from his life. He has a lot of anger that is directed to the fay, they make his life miserable.
Ethan is forced to accept his past and embrace his future when a half-fairy disappears. He begins a journey into the Nevernever to save his friend. Along the way he discovers a softer side, love, family, and friendship.
I had forgotten how much I enjoy Julie Kagawa's writing style. She tells the story from the first person using a voice that is entertaining and sarcastic. It is a mix that really works and keeps me wanting more. I waited far too long to read this book. I'm glad to get back into a story with some of my favorite characters.