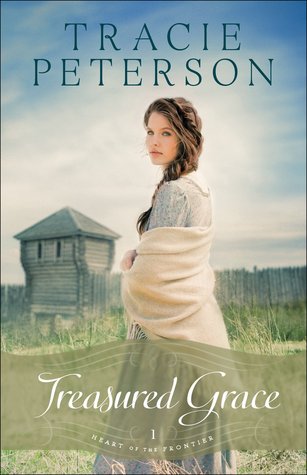 Treasured Grace
by
Tracie Peterson
My rating:
4 of 5 stars
Source: I purchased a copy of this book.
Genre: Historical Christian Fiction
Book Description:
Tracie Peterson Begins Compelling New Series Set on the 1840s Frontier
Grace Martindale has known more than her share of hardship. After her parents died, raising her two younger sisters became her responsibility. A hasty marriage to a minister who is heading to the untamed West seemed like an opportunity for a fresh start, but a cholera outbreak along the wagon trail has left Grace a widow in a very precarious position.
Having learned natural remedies and midwifery from her mother, Grace seeks an opportunity to use her skills for the benefit of others. So when she and her sisters arrive at the Whitman mission in "Oregon Country," she decides to stay rather than push on.
With the help of Alex Armistead, a French-American fur trapper, Grace begins to provide care for her neighbors, including some of the native populace. But not everyone welcomes her skills--or her presence--and soon Grace finds herself and those she loves in more danger than she imagined possible.
My thoughts: The trials of the settlers of the Western Frontier were not easy. This book takes a look at a time in history when the "whites" and the "Indians" were in conflict. It follows a young woman, Grace Martidale, and her sisters as they follow the Oregon Trail.
I appreciated that this book did not gloss over details of life for the people. Part of this book focuses on the Whitman Mansion Massacre. The book looks at the tensions that led up to it, the plight of the victims, and the aftermath. It isn't pretty. Tracie Peterson stays true to the history and covers the treatment of the hostages (including rape, without details). It was a violent action and that is described as well. If anything, it gave me an appreciation for history and for the people who were brave enough to leave their homes and security to settle the frontier.
Grace is a healer. She and her sisters stay at the mansion due to an outbreak of the measles on the trail. She is compassionate and brave. The romance between her and a trapper, Alex, is sweet. It doesn't come close to being rushed. In some ways it was a little slow for me.
I think that Tracie Peterson did a great job at describing the position of both sides of the conflict. There was so much misinformation and hurt egos. This book touched me and reminds me that sometimes we need to learn of the unpleasant points in history so that it doesn't happen again. I can relate this to so many social and political point in our wold today and see that we still have a long way to go.
Online Purchase Links:
About the Author
: (Taken from Goodreads)
Tracie Peterson is a bestselling author who writes in both historical and contemporary genres. Her novels reveal her love for research as well as her strong desire to develop emotionally meaningful characters and stories for her readers. Tracie and her family live in Montana.