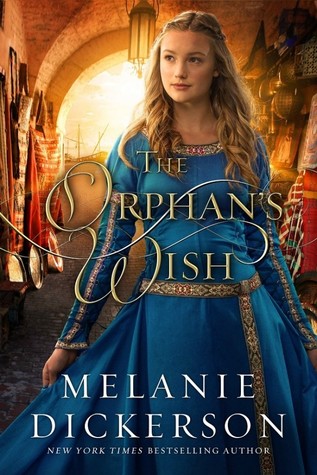 The Orphan's Wish
by
Melanie Dickerson
My rating:
3 of 5 stars
Source: Received to review from Netgalley.
Genre: Historical/Christian
Book Description
:
From the streets to an orphanage in a faraway kingdom, Aladdin has grown up alone. Until he meets Kirstyn. With a father who is the duke of Hagenheim and a mother who is the patroness of the orphanage where Aladdin lives, Kirstyn is a member of the most powerful family in the land . . . and way out of his league. Despite the difference in their stations, Aladdin quickly becomes Kirstyn's favorite companion for taking walks in the forest, and their childhood friendship grows along with them.

Through his scrappy skills, intelligence, and hard work, Aladdin earns a position serving in the duke's house. But he knows it isn't enough to grant him his one desire: Kirstyn's hand in marriage. If he hopes to change his station in life and feel worthy of marrying Kirstyn, he must leave Hagenheim to seek his fortune.

But once Aladdin leaves, no one is around to protect Kirstyn, and the greedy men desperate to take advantage of her father's wealth take notice. Now, more than Aladdin's background stands in the way of the future he's worked so hard to obtain. His only hope is to rescue Kirstyn and somehow manage to win her hand as well.
My thoughts
: This book is a loose retelling of Aladdin. The story begins as Ala Ad'din's mother dies. He is left an orphan with no one to see to his well being. But a kind man (crook) takes him in and teaches him the art of stealing. When he tries to steal from the wrong, or right, people, he finds himself in better circumstances.
I liked that even as a small boy Aladdin had a strong sense of right vs wrong. He wanted to do what is right and hated doing something he knew to be dishonest. He always stood up for the less fortunate and treated everyone with respect. This mindset brought him respect, honor, and loyalty to those who were fortunate enough to work with him.
The love interest is the daughter of a Duke. Aladdin is always trying to prove his worth to himself, so he can feel worthy to be with Kirstyn. He causes a lot of anguish to himself and those he loves because he wants his fortune for the wrong reasons. It is mentioned that he has the "Midas touch". It seemed more like he was smart and had a good work ethic.
The book looks at greed and how it cause the downfall of a person. For the most part, the book ran smoothly, but it also had places where it seemed a little slow. Aladdin is deeply religious and he looked at everything through his faith. Don't get me wrong, that is a trait that I greatly admire, it just slowed the book down.
This book contains domestic violence, kidnapping, religious themes, and romance. I would consider it appropriate for an older teen on up.
Purchase Links:
About the Author: (Taken from Goodreads) Melanie Dickerson is a New York Times bestselling author, a two-time Christy Award finalist, two-time Maggie Award winner, Carol Award winner, two-time winner of the Christian Retailing's Best award, and her book, The Healer's Apprentice, won the National Readers Choice Award for Best First Book. She is a member of American Christian Fiction Writers (ACFW) and Romance Writers of America (RWA). Melanie earned a bachelors degree in special education of the hearing impaired from The University of Alabama and has worked as a teacher in Georgia, Tennessee, and Ukraine. She lives with her husband and two children in Huntsville, Alabama.
Visit her WEBPAGE.