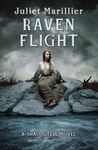 Raven Flight
by
Juliet Marillier
My rating:
4 of 5 stars
Source: Purchased
Genre: Fantasy
Book Description:
Neryn has finally found the rebel group at Shadowfell, and now her task is to seek out the elusive Guardians, vital to her training as a Caller. These four powerful beings have been increasingly at odds with human kind, and Neryn must prove her worth to them. She desperately needs their help to use her gift without compromising herself or the cause of overthrowing the evil King Keldec.
Neryn must journey with the tough and steadfast Tali, who looks on Neryn's love for the double agent Flint as a needless vulnerability. And perhaps it is. What Flint learns from the king will change the battlefield entirely—but in whose favor, no one knows.
My thoughts
: This is the second book after
Shadowfell
. I loved how Juliet Marillier picked up right where she left off after the first book and continued with a wonderful story.
Neryn can see and summon the "good folk". Because of her gift she has to hide from the King. He is trying to control or get rid of anyone who has a bit of magic in them. Neryn is learning in this book how to call the good folk to overthrow the King. She has a lot to learn and little time to do it.
This book deals with the journey Neryn must take to seek out those who will teach her. The book is slow paced, but interesting. This is not a book that can be read in a few days.
I missed Flint in this book. The focus was on Neryn and the things she was learning. There were a few moments where Flint appeared, but they were too few and too far in my opinion.
I look forward to reading the third and final book that will be released in a few days. I look forward to finding out if Neryn and Flint will finally have time to be together. I am hoping that they can find peace and happiness.
About the Author:
(Taken From Goodreads)

Juliet Marillier was born July 27, 1948 in Dunedin, New Zealand and grew up surrounded by Celtic music and stories. Her own Celtic-Gaelic roots inspired her to write her first series, the Sevenwaters Trilogy. Juliet was educated at the University of Otago, where she majored in music and languages, graduating BA and a B Mus (Hons). Her lifelong interest in history, folklore and mythology has had a major influence on her writing.
Juliet is the author of seventeen historical fantasy novels for adults and young adults, as well as a book of short fiction. Juliet's novels and short stories have won many awards.
Juliet lives in a 110 year old cottage in a riverside suburb of Perth, Western Australia. She shares her home with a small pack of waifs and strays - she is a foster carer for an animal rescue group. She has four adult children and six grandchildren. Juliet is a member of the druid order OBOD (the Order of Bards, Ovates and Druids.)