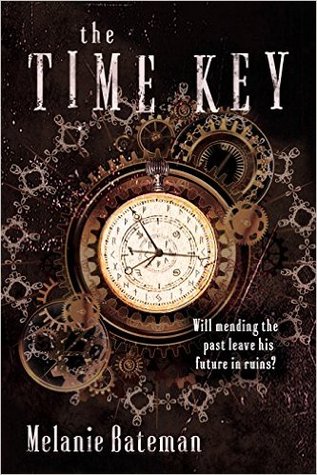 The Time Key
by
Melanie Bateman
My rating:
4 of 5 stars
Source: Received digit copy from publisher to review.
Genre: Sci-Fi/Fantasy
Book Description
:
When Stanley saves a man, he's given a mysterious device that allows him to travel through time. But he soon learns that changing his past doesn't necessary lead to a better future. Traveling over 100 years into the future may be the only way Stanley can change his fate and save his family.
My thoughts
: I enjoyed Melanie Bateman's story on time travel. The story is fresh and full of interesting characters. Many of them are not human.
The story his told as a narrative. The narrator sometimes gets ahead of him/her self and has to remember to get back to the story instead of skipping ahead. In some ways the style reminded me of "A Series of Unfortunate Events". I thought it worked well and was a great way to tell the story.
Stanley is a widower who has spent the past six years drinking. He wants to forget the pain of loosing his wife and daughter, but drowning his sorrows hasn't worked well for him. In a moment when he is about to end everything, he becomes a hero and ends up with the Time Key. A watch that gives him the ability to move around in time. With his new possession comes peril to himself and those he cares about. He is also given a gift that helps him move in a positive direction. Her name is Lena and she is a vaelie , a person of childhood fantasy.
I was impressed with the depth of the story. There are many events that keep interest throughout the story. The pacing was well done. The story is set in the late 1890's. The mode of transportation is carriages and horses. In one scene in the story Stanley travels 40 years to the future and sees the devastation of war with aircraft dropping bombs. It added a new perspective.
This book can appeal to many ages. It is clean with some violence. I would suggest to tweens and above. The book contained illustrations which also adds appeal for younger readers.
About the Author:
Melanie Bateman was born in Caracas, Venezuela, and moved to the United States at age nine. She has an associate's degree in fine art from Utah Valley University, emphasizing in illustration. From a very young age she's had a passion for drawing, specifically nature and the human figure. It is from this creative look on the world that she began to write stories.
Visit the Tour Stops:
"The Time Key" blog tour schedule:
June 16:
Community Bookstop
June 17:
Jodi Woody
June 18:
Making Life a Bliss Complete
June 19:
Kaylee Baldwin
June 20:
Rockin' Book Reviews
June 21:
2 Kids and Tired Books
June 22:
Choco Meiske
|
Literature Approved
|
Fire and Ice
June 23:
Bookworm Lisa
June 24:
The Reader's Salon
June 25:
Bookworm Nation
June 26:
Wishful Endings
June 27:
Connie's Bookmark
June 28:
Once Upon a Time
June 29:
Storyweaver
June 30:
The Unabridged Girl
July 1:
Mel's Shelves
July 2:
Blooming with Books
July 3:
The Book Addict
|
Inklings and Notions
July 4:
Novel-ties
July 5:
Singing Librarian Books
July 6:
Reading Lark
July 7:
Paranormal & Romantic Suspense Reviews