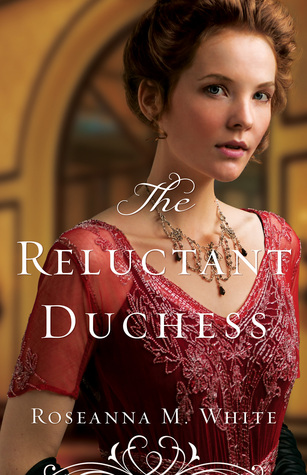 The Reluctant Duchess
by
Roseanna M. White
My rating:
4.5 of 5 stars
Source: Received from Publisher to Review
Genre: Historical Christian Romance
Book Description:
Lady Rowena Kinnaird may be the heiress to a Highland earldom, but she has never felt good enough—not for her father, not for the man she thought she'd marry, not for God. But after a shocking attack, she's willing to be forever an outcast if it means escaping Loch Morar and the men who have jeopardized her life.
Brice Myerston, the Duke of Nottingham, has suddenly found himself in possession of a rare treasure his enemies are prepared to kill for. While Brice has never been one to shy away from manor-born ladies, the last thing he needs is the distraction of his neighbor, Lady Rowena, who finds herself in a desperate situation. But when the moody Earl of Lochabar tries to trap Brice into marrying Rowena, Brice finds he's not as opposed to the idea as he expected to be.
Rowena wanted to escape the Highlands, but she's reluctant to resort to marrying a notorious flirt just to gain his English home. And when she learns that Brice is mixed up in some kind of questionable business with a stolen treasure, she 'fears she's about to end up directly in the path of everything she was trying to avoid.
My thoughts:
It is as huge let down when you remember that a book is a work of fiction. I loved the characters in this book and really wanted them to be real!
This is the second book of Roseanna M. White's "Ladies of the Manor" series. Of course, I missed out on reading the first book and jumped right to the second. It was obvious that this was a second book, but I was able to keep up with the story and the plot without a problem. I have ordered the first book,
The Lost Heiress
, and look forward to reading it! The third book comes out in September and I can't wait to get my hands on it. :)
In this book Rowena is a young Scottish noble who has been emotionally and physically abused. She is broken by events that she had no control over. Her self-esteem is low and she desperately needs to be loved.
Brice is an English noble who is visiting his lands in Scotland. He is basically ambushed into marriage with Rowena. He sees the woman that she is and knows that he was meant to help her. He listens as he is directed by the Spirit and lives his life trying to be the best person he can be. He saves her from her situation.
I loved that this book looks at the emotional and physical scars of abuse. The book shows the healing that can happen when a person is in a secure environment, surrounded by people who accept them. It also shows how the Savior can heal and lead people to a better way of life.
The book also talks about corruption and the love of money and power. Brice is on a dangerous journey to find justice for the events in the first book. (Another reason for me to read it!) I understood his reasoning and events that occurred. The information was just enough to keep me interested and invested in this story.
I really enjoyed this book! It has kissing, mention of a rape, and mild violence.
You can purchase a copy at: