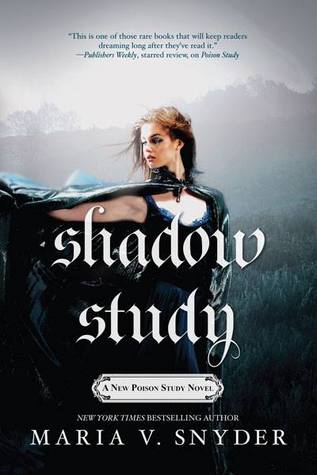 Shadow Study
by
Maria V. Snyder
My rating:
4 of 5 stars
Source: Netgalley (over a year ago)
Genre: Fantasy
Book Description
:
Once, only her own life hung in the balance…
When Yelena was a poison taster, her life was simpler. She survived to become a vital part of the balance of power between rival countries Ixia and Sitia.
Now she uses her magic to keep the peace in both lands—and protect her relationship with Valek.
Suddenly, though, dissent is rising. And Valek's job—and his life—are in danger.
As Yelena tries to uncover her enemies, she faces a new challenge: her magic is blocked.And now she must find a way to keep not only herself but all that she holds dear alive.
A CHRONICLES OF IXIA NOVEL
My thoughts:
It has been a long time since I read the Fire Study books. I do not remember a lot of the details, but I do remember Yelena and Valek and how much I enjoyed their characters. That alone made this a book that I really wanted to read. I requested it from Netgalley and was approved but waited far too long to read this book.
As I mentioned above, I didn't remember details from the first series. Fortunately, it didn't take long for me to catch up with the characters and become invested in the culture and world that Maria V. Snyder created.
I love to read Snyder's books. They are full of action and adventure. She knows how to tell a story that keeps me glued to the pages and eagerly anticipating what will happen to the characters next. It was intriguing to find out how Valek became an assassin and all of the political shenanigans going on behind the scenes. There are clues that need to be unraveled, Valek has skills and knows how to figure things out.
One of the good things about starting a series late, is that the second book is out, I don't have to wait to find out how Valek and Yelena will stop the smugglers and the political problems. I can get started on it right away! Yay for me.
This book contains violence an innuendo.
About the Author:
(Taken from Goodreads)
Meteorologist turned novelist, Maria's been writing fantasy and science fiction since she was bored at work and needed something creative to do. A dozen novels and numerous short stories later, Maria's learned a thing or three about writing. She's been on the New York Times bestseller list, won a half-dozen awards, and has earned her MA degree in Writing from Seton Hill University where she's been happily sharing her knowledge with the current crop of MFA students. She also enjoys creating new worlds where horses and swords rule, 'cause let's face it, they're cool, although she's been known to trap her poor characters in a giant metal cube and let them figure out how to get out. Readers are welcome to check out her website for book excerpts, free short stories, maps, blog, and her schedule at
http://www.MariaVSnyder.com
.