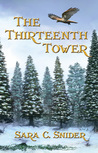 The Thirteenth Tower
by
Sara C. Snider
My rating:
3 of 5 stars
Source: Netgalley
Genre: YA Fantasy
Published: May 2014
Book Description
:
In adversity lies strength beyond imagining.
Abandoned as a baby, young Emelyn's life as a housemaid in the quiet village of Fallow is unremarkable—and empty. That is, until a host of magical creatures arrives and inflicts terrible misdeeds on the townsfolk. Inexplicably immune to their enchantments, Emelyn joins a pair of Magi intent on stopping the cause of the trouble—and who claim to know of her parents, promising Emelyn answers to a lifetime of questions.
But the answers Emelyn seeks prove to be more elusive than she hoped, and the world outside Fallow more perilous than she imagined. Magical creatures roam the land over, attacking yet another town before coming after Emelyn. The key to her survival—and finding her family—lies deep within her, if only she can conquer her doubts and believe she is more powerful than she ever dreamed.
In a journey that explores facing one's fears amidst the uncertainties of an unknown world,
The Thirteenth Tower
is a magical tale of discovery, growth, and of love's enduring strength.
My thoughts
: Emelyn was abandoned as a baby. Left on the doorstep of a wealthy family she has known a life of servitude.
The book begins as she is hoping to attend a local festival. From the moment of the festival we are introduced to characters of fantasy and magic. The festival ignites a world of discovery for Emelyn.
Emelyn's journey is one of self-discover, unlocking her genetic roots, and friendships made. Emelyn is a kind young woman with a generous heart. She takes people and creatures for who they are, not how she is told they should be.
I've seen this book described as a middle grade book, I would recommend to readers who are a little older. Because the world revolves around magical creatures, some of their behavior, or character descriptions are, in my opinion, best suited for an older reader.
This is a very interesting story with a fascinating fantasy world.
Amazon
*
Barnes & Noble