To Wager Her Heart
by
Tamera Alexander
My rating:
5 of 5 stars
Source: For Review from Netgalley
Genre: Historical Christian Fiction
Book Description
:
With fates bound by a shared tragedy, a reformed gambler from the Colorado Territory and a Southern Belle bent on breaking free from society's expectations must work together to achieve their dreams—provided that the truth doesn't tear them apart first.

Sylas Rutledge, the new owner of the Northeast Line Railroad, invests everything he has into this venture, partly for the sake of the challenge. But mostly to clear his father's name. One man holds the key to Sy's success—General William Giles Harding of Nashville's Belle Meade Plantation. But Harding is champagne and thoroughbreds, and Sy Rutledge is beer and bullocks.

Sy needs someone to help him maneuver his way through Nashville's society, and when he meets Alexandra Jamison, he quickly decides he's found his tutor. But he soon discovers that the very train accident his father is blamed for causing is what killed Alexandra's fiancé and shattered her world.

Spurning an arranged marriage by her father, Alexandra instead pursues her passion for teaching at Fisk University, the first freedmen's university in the United States. But family—and Nashville society—do not approve, and she soon finds herself cast out from both.

Through connections with the Harding family, Alexandra and Sy become unlikely allies. And despite her first impressions, Alexandra gradually finds herself coming to respect, and even care for this man. But how can she, when her heart is still spoken for?

Sylas Rutledge will risk everything to win over the woman he loves. What he doesn't count on is having to wager her heart to do it.
My thoughts
: "When one door closes, another opens..." (Alexander Graham Bell) That is the phrase that stuck with me while reading this book. Alexandra is living in the past and not moving forward. She lost her fiancee in a terrible train accident, and hasn't been living life to it's potential.
I loved the messages in this book. One is that life goes on and that there is love and joy around the corner. It comes when you least expect it. I also loved reading about the plight of the freed slaves in Nashville. Tamera Alexander does an amazing job at describing the political and social climate after the slaves were freed. I felt empathy for them and was astonished at their treatment. I knew it happened, and still does today, but to read about it and feel the emotion behind the words is a blessing for me.
If you love historical Christian fiction, you should put this book on your list. It is well worth the time and effort to read.
Online Purchase Links: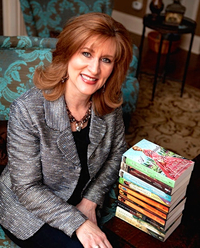 About the Author:
(Taken from Goodreads)
Tamera Alexander is a USA Today bestselling author and one of today's most popular writers in the inspirational historical fiction genre. She and her husband live in Nashville, Tennessee, not far from the Southern mansions that serve as the backdrop for six of her
award-winning novels.