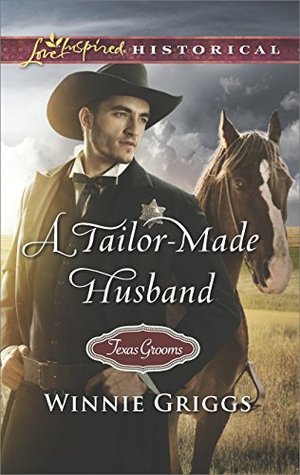 A Tailor-Made Husband
by
Winnie Griggs
My rating:
4 of 5 stars
Source: I requested a copy from Netgalley.
Genre: Old West Romance
Book Description
:
From Bachelor Sheriff to Family Man
Tired of pining for handsome sheriff Ward Gleason, seamstress Hazel Andrews plans to head East for a fresh start—until Ward finds an abandoned child. Hazel can't turn down his request that she watch the little girl while he investigates a spate of crimes. But spending time with Ward is sending local gossips—and Hazel's heart—into turmoil.
Nothing in Ward's world is the same since he took charge of orphaned Meg…and that includes his growing feelings for Hazel. A fake engagement will allow them to care for the child together until Hazel moves away and finds someone more worthy. But with little Meg convinced she's already found her forever family, can Ward and Hazel dare to make her dreams come true, along with their own?
My thoughts
:
A Tailor-Made Husband
is set in the Old West. Ward Gleason is the sheriff of a small town and finds himself unexpectedly the foster father of an adorable four year old girl. He needs help, and finds it with Hazel, the girl who has been pining for him for years. Sadly, Hazel determined before he came home with Meg, that it was time for her to move to New York and her time to help him is limited.
This is a cute story with great characters. I enjoyed them. I particularly loved Meg and her innocent matchmaking. The romance has many moments that made me chuckle. Ward and Hazel are both unwilling to acknowledge and act upon their feelings for each other. It leads to awkward and entertaining moments. The town is made up of the usual kind of characters: the gossips, the troublemakers, the busybodies, and a few lawbreakers.
The book contains a bit of a mystery. Someone is causing mischief and making life hard for Ward. I figured out who it was and a motive early, but it was interesting to see him put the pieces together and come to the same conclusion.
This book is clean with a little bit of kissing. There are religious references and a smidgen of violence.
Online Purchase Links:
About the Author:
(Taken from Goodreads)
Winnie Griggs grew up in south Louisiana in an undeveloped area her friends thought of as the very back of beyond. With her two younger siblings and another family of two siblings for playmates, she spent many an hour exploring the overgrown land around her home, cutting jungle trails, building forts and frontier camps, and looking for pirate ships on the nearby bayou.
Once she 'grew up' she found other outlets for dealing with all those wonderful, adventurous imaginary friends by filling notebooks with their stories. And somewhere along the way, those scribblings gave way to full length stories.
Eventually she found her own Prince Charming, a rancher whose white steed takes the form of a tractor and whose kingdom is situated in a small rural community that she loves to call home, and together they've built their own storybook happily-ever-after. Their lives together expanded to include four now grown children who share Winnie's vivid imagination and her husband's steadier influences and are now out in the world pursuing their own adventures.
Winnie shares her stories with readers through her writings for Love Inspired and Love Inspired Historical books. You can learn more about Winnie at
www.winniegriggs.com