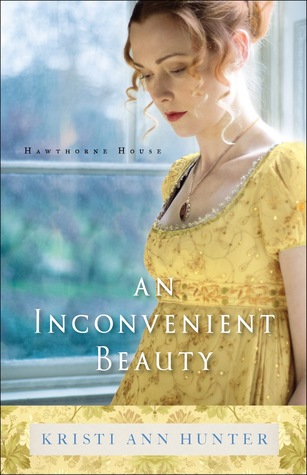 An Inconvenient Beauty
by
Kristi Ann Hunter
My rating:
4.5 of 5 stars
Source: Received from the publisher to review.
Genre: Christian Regency Romance
Book Description
:
Griffith, Duke of Riverton, likes order, logic, and control, so he naturally applies this rational approach to his search for a bride. While he's certain Miss Frederica St. Claire is the perfect wife for him, she is strangely elusive, and he can't seem to stop running into her stunningly beautiful cousin, Miss Isabella Breckenridge.

Isabella should be enjoying her society debut, but with her family in difficult circumstances, she has no choice but to agree to a bargain that puts her at odds with all her romantic hopes--as well as her conscience. And the more she comes to know Griffith, the more she regrets the unpleasant obligation that prevents her from any dream of a future with him.

As all Griffith's and Isabella's long-held expectations are shaken to the core, can they set aside their pride and fear long enough to claim a happily-ever-after?
My thoughts
: I am very sad that this is the last book of the "Hawthorne House" series. I have come to love reading about this family!
This book lived up to my expectations, and they were high. Kristi Ann Hunter always delivers a book with great characters and is fun to read.
In this story, the eldest son, and the Duke, is learning what it is like to love. He always appears put together and intimidating. He takes his role and Duke and head of the family seriously and does it well. He "thinks" that he can logically pick a bride and that all will be well, but that is not the way that love works. His thoughts and world are turned upside down when the beautiful Isabella Breckenridge has her first season.
I enjoyed the history in the book. This book takes place at the end of the War with Napoleon. Isabella's uncle is trying to force through legislation and uses others as pawns to sway the vote. The political manuring is fascinating.
This book is a perfect ending to a wonderful series. It can be read as a stand alone, but I highly recommend all of the books. You won't want to miss any time with this family. It's a clean book with kissing and Christian themes.
Online Purchase Links:
About the Author
: (Taken from Goodreads)
Kristi Ann Hunter graduated from Georgia Tech with a degree in Computer Science but always knew she wanted to write. Kristi is an RWA Golden Heart contest winner, an ACFW Genesis contest winner, and a Georgia Romance Writers Maggie Award for Excellence winner. She lives with her husband and three children in Georgia. Find her online at
www.kristiannhunter.com
.