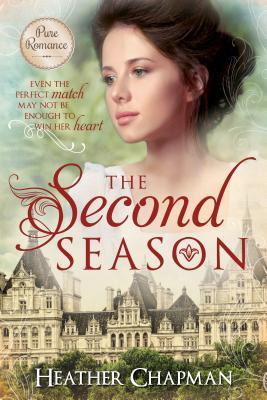 The Second Season: Even the Perfect Match May Not Be Enough to Win Her Heart
by
Heather Chapman
My rating:
4 of 5 stars
Source: Received digital copy from publisher to review
Genre: Regency Romance
Book Description
;
Eleanor Hopkins has lived in disappointment for far too long believing that her husband only married her for fortune, and she determines to protect her own daughters from such misery by scheming to secure offers for both Lucy and Caroline based on mutual rank and reputation. When Caroline finds that the handsome and reputable Lord Searly desires her as his wife, she finds that no amount of planning or pretending can convince her to accept him. Instead, she is confronted with an unexpected and reluctant suitor in the respectable shoemaker Thomas Clark.
My thoughts
: Regency Romance has always been one of my favorite genres to read. It's fun to read about the balls, courtship, riding through the park, gentlemen behavior, etc. This book has all of that but also has a little bit more. Heather Chapman takes the reader through two generations of romance and expectations.
Caroline is 18 and in her second season. Her first was cut short due to illness. She would rather stay at her families country home than London. Her sincerity and forthrightness quickly catch the attention of a Duke. Her mother is thrilled, but for Caroline something is missing. While being courted by the Duke, she begins to notice the talented cobbler. He is beneath her station, but attraction does not always follow the rules of society.
The story is not just Caroline's. Her sister, Lucy is also featured. She also has her own mind. She has suitors who she favors and some that she is not excited to be in the same room with.
The third romance is that of their parents. The story goes back twenty-five years as they meet, fall in love, and marry. Due to misunderstanding their union is not as happy as either hoped. It lends understanding to the mother's drive to see her daughters marry well and find happiness. Unfortunately, her definition of happiness is a little different from her daughters.
This is a refreshing Regency romance. I found myself caught up in the story of the family. The book is well written and interesting. I loved having a strong female lead. This is a clean romance.
This book is currently having a Goodreads giveaway
until October 7, 2016.
Purchase a copy at:
About the Author
:
Heather Chapman currently resides in Soda Springs, Idaho, with her husband and four children. She graduated magna cum laude from Brigham Young University. Heather has worked in various administrative assistant roles and as an event planner. Heather has also worked as a piano accompanist and piano teacher on the side. She currently spends her time writing and working as a stay-at-home mother.
Visit the Tour Stops: