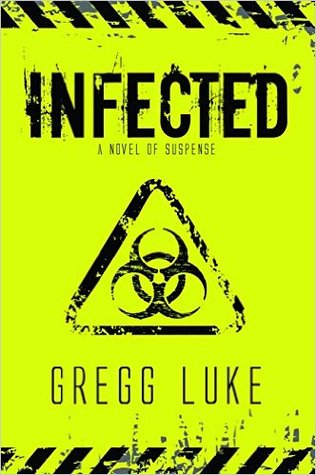 Infected
by Gregg Luke
Rating: 4 of 5 stars
Source: Received from Publisher to Review
Genre: Suspense
Book Description
:
Mother Nature: the world's most innovative killer.
Deep in the jungles of Venezuela, mycologist Dr. Julia Fatheringham is engrossed in her study of native fungi. But what begins as a standard research trip quickly spirals into chaos when her associate's erratic behavior results in his horrifying death. Soon, Julia makes a startling discovery: her partner was contaminated by an organism found only in insects. It alters the victim's mind in alarming ways, with an invariably deadly outcome. Julia is baffled by her discovery—this organism has never appeared in humans. It shouldn't be possible. There is only one terrifying conclusion: The infection has jumped species.
Now, in this remote corner of the world, a contagion of unparalleled horror rests in Julia's hands. But even as she works to contain the organism that could spell devastation of apocalyptic proportions, there are others with a different agenda. They've learned of her discovery and will go to any lengths to acquire a sample—there is good money to be had in eco-terrorism.
Armed only with her strength of mind and what courage she can gather, Julia prepares to battle the devastating scourge—and the terrorists determined to unleash it on humanity.
My thoughts
: Wow! The concepts in this book blew me away. A Mother Nature infection can become a eco-terrorism tool. The first sentence of the book is "Mother Nature is a serial killer." A couple of paragraphs down reads: "
Mother Nature. A mass murderer. No one is more creative...
" That's how the book starts. From there it goes on to describe circumstances and situations that seem unreal, but at the same time completely plausible.
This book is a suspenseful race against time, good guy, bad guy, science fiction, action packed book. It held my attention while describing scenes that I could almost see in my mind. Some of them I really didn't want to see. Some of them left me a little squeamish, but it was fascinating. This book is a contrast between emotions. You can't help but keep reading and wanting to know what will happen next.
If you enjoy a good suspense book, you may want to give this one a try. Be prepared that you will read things that you hope will never happen. You will picture events that you may not want to picture. Hopefully you will be as fascinated as I was.
Purchase Links:
About the Author:
Gregg Luke is a practicing pharmacist. He received his medical training at the University of Utah. He has been writing since he could put pen to paper. He enjoys medical thrillers and is one of the first to work this genre into the LDS market.
Enter the Tour Giveaway:
(Prize and winner notification will be coming from Covenant Communications:
a Rafflecopter giveaway
Visit the Tour Stops: