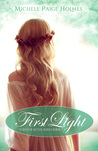 First Light
by
Michele Paige Holmes
My rating:
5 of 5 stars
Source: Received eBook to review
Genre: Fairy-Tale
Book Description
:
Seventeen-year-old Adrielle doesn't believe in magic; she merely possesses it, though no one has ever mentioned that her unusual gifts—exceptional speed, a flair for fire, and an intimate knowledge of flora—aren't things she was born with. When Adrielle starts a fire that burns down the family home, she must deal with both her grief and her siblings' hurtful rejection.
While journeying to far away Tallinyne, in search of her older, estranged sister—the only relative who might take her in—Adrielle is separated from her escort when the carriage is beset by thieves. Alone, she is thrust into a dangerous and unfamiliar world where she encounters fairies and gypsies, a wild boar, a drunk cook, and an evil queen whose curse is sweeping death across the land. Adrielle also finds love, falling hard for a kind, funny, handsome—and completely unavailable prince.
From the glowing pearls tucked beneath her mattress and keeping her awake at night, to Queen Nadamaris's curse that seems to thwart Adrielle's every effort, Adrielle struggles to navigate a world of magic she never imagined, where people she knows and loves are not always what they appear to be. With the glowing pearls—and her fondest desire—within her grasp, she is forced to make a choice no girl should ever have to—satisfying her own heart or saving the kingdom.
My thoughts:
I give few 5 star ratings. The main criteria for a five star is that I don't want to put the book down. I have to be absorbed in the story so that every thing else is secondary to reading.
This is a fairy-tale that is a spin off from Sleeping Beauty. It also has some of my favorite stories woven in. Adrielle is a farmer's daughter. She knows what it is like to be hungry and has compassion for those she meets. Even when she is amongst thieves, she sees aspects of them that are good. She grew up with a respect for learning and hard work. As the youngest of 11 children, she knows what it is to feel left behind and left out.
This book has fairies, magical gifts, friendship, fire-breathing dragons, curses, gypsies, an evil Queen, Princesses, and Princes. There is a little something for everyone who loves to read fairy-tales.
I loved how Michele Paige Holmes was able to keep the story familiar, but add new things to it. She did a wonderful job at descriptions and moving the story.
The book is clean but does have a little violence. There is a battle between the hero's and the evil Queen. She is a ruthless villain. The book also contains kissing. I feel that this book is a good fit for all ages.
Purchase the book at:
About the Author:
Michele Paige Holmes spent her childhood and youth in Arizona and northern California, often curled up with a good book instead of out enjoying the sunshine. She graduated from Brigham Young University with a degree in Elementary Education and found it an excellent major in which to indulge her love of children's literature.
Enter the Tour Giveaway:
a Rafflecopter giveaway