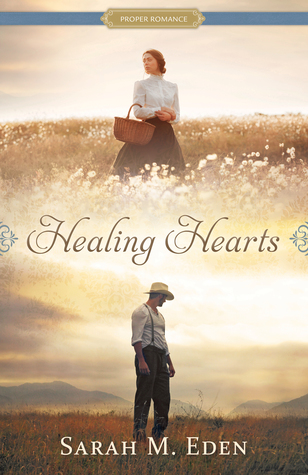 Healing Hearts
by
Sarah M. Eden
My rating:
5 of 5 stars
Source: Received to Review
Genre: Historical Romance
Book Description
:
Wyoming Territory, 1876
As the only doctor in the frontier town of Savage Wells, Gideon MacNamara knows his prospects for a bride are limited. The womenfolk in town are either too young, too old, or already spoken for. So, being a practical man, he decides to take advantage of the matchmaking service of the day—mail-order brides—and sends away for a woman with nursing experience.
When Miriam steps off the stagecoach in Savage Wells, she sees a bright future in front of her. But when the town—and Gideon—meets her, ready for a wedding, her excitement quickly turns to horror. Somehow Dr. MacNamara's message had gotten turned around. He didn't want a nurse, he wanted a wife. When she refuses to marry him, she finds herself stranded in Savage Wells with some very unhappy townspeople.
But Gideon is not like the other men Miriam has met. Embarrassed by the misunderstanding, he offers her a job, and the two begin an awkward—and often humorous—dance of getting to know each other as they work to care for the people of their town. Romance blossoms between the two, but when a former medical associate of Miriam's arrives in town, Gideon and the other townsfolk must rally around Miriam to protect her from a dangerous fate. Gideon and Miriam must decide if they are willing to risk their hearts for each other even as buried secrets are brought to light.
My thoughts:
This book made my heart feel good. Sarah M. Eden has a way of writing an intelligent story with humor and emotion. I will never tire of reading her novels.
Miriam has endured some horrific trials. I am grateful that we live in a time where the body is better understood that it was in 1876. Miriam has a medical condition that leads to her institutionalization. After two years of living a nightmare, she escapes to a small town in Wyoming to be a nurse for a local Doctor. This should be a safe place to leave her past behind, but she does not know that she is there to marry the Dr as well as be his nurse. The awkwardness of the beginning of the book is cringe-worthy. I could see it coming and I had the inclination to run and hide to avoid reading it. :)
The book keeps on going from the beginning. There are many awkward situations to overcome. I love how once Miriam was accepted by the town, she became one of them and they did what they could to protect her.
Dr. Gideon MacNamara is a man of compassion and able to do what is best for others, rather than feel sorry for his wounded pride. He is the perfect love interest for Miriam.
Once again, I have been taught while being entertained.
Online Purchase Links:
Sarah M Eden has written some of my favorite books. I love everything of hers that I have read. To get a full list of her books, visit her
Goodreads Page!