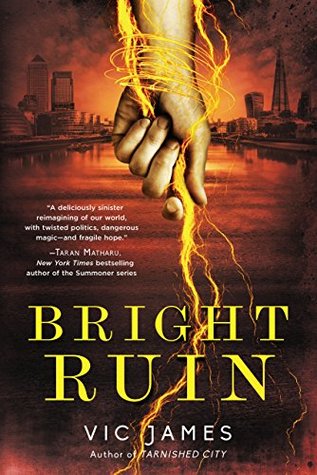 Bright Ruin
by
Vic James
My rating:
4 of 5 stars
Source: Netgalley for review
Genre: Dystopian
Book Description
:
Magically gifted aristocrats rule--and commoners are doomed to serve. But a rebellion threatens the old order. The dystopian trilogy that began with Gilded Cage and Tarnished City concludes.

In a world where the lower classes must endure ten years of forced service to unfairly advantaged, magically powered rulers, a teenage boy dreams of rebellion, his older sister yearns for love and knowledge, and a dangerous young aristocrat seeks to remake the world with his dark gifts. In Bright Ruin, the final book in the trilogy set in modern-day England, our heroes will lead a revolution that will transform--or destroy--the world.
My thoughts:
What an ending to a great series. I finished it last night and I am still mulling over the ending. I am hoping that there will be a series after this one so that I can find the closure. I understand what happened, I just want to know what happens next.
This is the third book in a series and they have to be read in order. The basis is that the ruling class in England have powers that allow them to keep a choke hold on the people without "skill". They devote years of their lives as slaves in order to provide free labor to those who are already wealthy. This book is the final of an uprising.
The story basically revolves around two families: the Hadleys and the Jardines. The Hadleys are oppressed and the Jardines are the rulers of the country. There are some unexpected developments between the two families that made me feel good and uncomfortable. It is a complicated relationship. One of hate, respect, betrayal, and romance.
Vic James does not pull any punches in this story. It is brutal and fascinating at the same time. I can't help but compare it to some modern-day governments. It is really a commentary on the abuse of power and the resiliency of the oppressed. If you are looking for a light and easy read, this series is not for you. This is a book that makes you think. It is violent and contains innuendo. Some of the main characters are masterminds of evil, there is a lot of coarse language including the "f" bomb. There are also same-sex relationships.
I usually stay with the light and fluffy books, but I enjoyed my time with this trilogy. I would definitely read more from Vic James. She paints a picture that is fascinating.
Online Purchase Links:
About the Author
(Taken from Goodreads):
Vic lives in London's Notting Hill, but her life is more action-adventure than rom-com.
She studied History and English at Merton College, Oxford where Tolkien was once professor. Relocating to Rome, she completed her doctorate in the Vatican Secret Archives (they're nothing like The Da Vinci Code), then spent five years living in Tokyo where she learned Japanese and worked as a journalist. She now alternates writing full time with directing documentaries for the BBC.
Vic has scuba-dived on Easter Island, camped at Everest Base Camp, voyaged on one of the last mailboats to St Helena, hang-glided across Rio de Janeiro, and swum the Hellespont from Europe to Asia. But there's little she loves more than lying in bed till midday with a good book and a supply of her favourite biscuits.