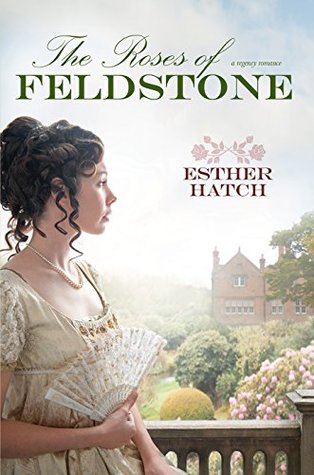 The Roses of Feldstone
by
Esther Hatch
My rating:
4.5 of 5 stars
Source: Received to Review
Genre: Regency Romance
Book Description
:
Standing before Feldstone Manor, site of so many happy memories, Rose Davenport feels nothing but dread. Her family's annual visit to the stately home was once brightened by her friendship with the earl's youngest son, William, but everything changed the day his elder brother was disinherited and William became heir to his father's earldom. From that moment, William made it clear he has no interest in continuing an acquaintance with Rose. Heartbroken, she sets out to prove that she will simply not be ignored—or outdone—by the arrogant future lord of the manor. When his elder brother marries for love, William's entire life changes in an instant. He does not have the same option to marry whom he chooses, and he must let go of the feelings he has harbored for his dear friend, Rose. He steels himself against her annual visits, determined to keep his feelings for her a secret. But when he makes the hasty promise to marry within six months, he never dreams that his actions will lead Rose to impulsively undertake the same challenge.
My thoughts
: I love a book that makes me feel good and has depth to it. I found both of these aspects in
The Roses of Feldstone.
Rose is a character that I loved. She is smart and unassuming. She was born to privilege, but treats everyone with kindness and compassion. (Unless there is a suitor she wants to avoid, then she just hides.) She treats tenants, servants, and abused chimney sweeps as if they were friends. No one is beneath her notice or concern. She is strong and knows how to speak her mind, even when her thoughts could get her into trouble. She is great at banter and holding her own against her childhood friend, William.
William is more of a troubled character. He will inherit his father's title and estate after his brother left in scandal. He is cautious and more concerned with everyone else with little regard to his own welfare and emotions. Rose was the perfect nemesis and love interest for him. She remembers the boy who showed her great kindness.
This book has more than romance. For one, there is a deeper meaning to the
Roses
in the title. I love it when the title is well thought out and plays a part in the plot of the book. Also, the author adds a bit about the abuse of chimney sweeps in London. The story of a young boy forced into the trade is heartbreaking. Child labor laws were a blessing.
I enjoyed every moment I spent in the pages of this book. It is well worth the time to read. It does contain some kissing.
Online Purchase Links:
About the Author
: (Taken from Amazon)
Esther Hatch grew up on a cherry orchard in rural Utah. After high school, she alternated living in Russia to teach children English and attending Brigham Young University in order to get a degree in archaeology. She began writing when one of her favorite authors invited her to join a critique group. The only catch was she had to be a writer. Not one to be left out of an opportunity to socialize and try something new; she started on her first novel that week. Visit her at estherhatch.com.
Enter the Tour Giveaway!
(Prize and winner notification will be provided by Covenant Communications.)
a Rafflecopter giveaway
Visit the Tour Stops!