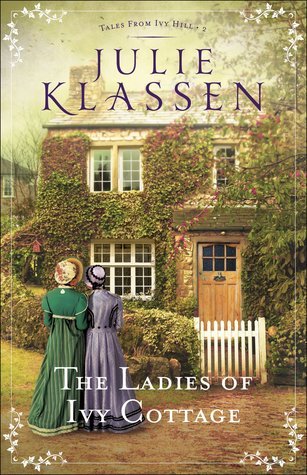 The Ladies of Ivy Cottage
by
Julie Klassen
My rating:
4 of 5 stars
Source: Netgalley
Genre: Historical Women's Fiction
Book Description:
New from the Top Author of Inspirational Regency Romance
Return to Ivy Hill in
The Ladies of Ivy Cottage
as friendships deepen, romances blossom, and mysteries unfold.
Living with the two Miss Groves in Ivy Cottage, impoverished gentlewoman Rachel Ashford is determined to earn her own livelihood . . . somehow. When the village women encourage her to open a subscription library with the many books she has inherited or acquired through donations, Rachel discovers two mysteries hidden among them. A man who once broke her heart helps her search for clues, but will both find more than they bargained for?
Rachel's friend and hostess, Mercy Grove, has given up thoughts of suitors and fills her days managing her girls' school. So when several men take an interest in Ivy Cottage, she assumes pretty Miss Ashford is the cause. Exactly what--or who--has captured each man's attention? The truth may surprise them all.
Meanwhile, life has improved at the coaching inn and Jane Bell is ready to put grief behind her. Now if only the man she misses would return--but where is he?
As the women of Ivy Hill search for answers about the past and hope for the future, might they find love along the way?
My thoughts
: It has been too long since I read
The Innkeeper of Ivy Hill
. I had forgotten several key points of the book. It took me a little while to get up to speed and continue on with the story. I highly recommend reading the first book before this one, or read them one right after the other.
This book is not fast paced, just like the first. Julie Klassen is building the story, piece by piece. It moves just like life would. I like that the book is not a race, but a story that is told in detail and interesting for the reader.
The books center around a group of friends who had grown apart, but have reconciled and found enjoyment in each others company. The friends are at different places in their lives. It is very interesting to see how they handle situations, disappointment, and heartbreak.
This book is a slow romance. Not all of the women find happiness at once. The book splits it's time between the characters and describes what is happening with their prospects. I love looking back at past time periods to see how much different we are today, but at our cores we are the same.
I liked this book better than the first, but I really think that I need to go back and re-read it. I want to see what I missed and be reminded of events. Jane's relationships are of particular interest to me.
This is a clean book. It does contain mention of infidelity and premarital relations.
Online Purchase Links:
About the Author:
(Taken from Goodreads)
Julie Klassen loves all things Jane—
Jane Eyre
and Jane Austen. A graduate of the University of Illinois, Julie worked in publishing for sixteen years and now writes full time. Three of her books,
The Silent Governess
,
The Girl in the Gatehouse
, and
The Maid of Fairbourne Hall
, have won the Christy Award for Historical Romance. She has also won the Midwest Book Award, the Minnesota Book Award, and Christian Retailing's BEST Award, and been a finalist in the Romance Writers of America's RITA Awards and ACFW's Carol Awards. She blogs at
http://www.inspiredbylifeandfiction.com
.
Julie and her husband have two sons and live in a suburb of St. Paul, Minnesota.