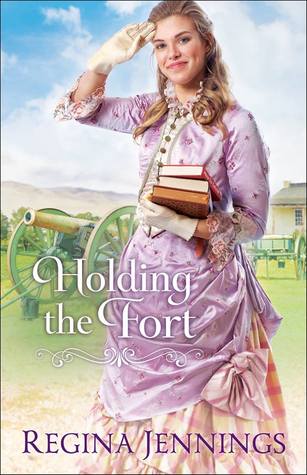 Holding the Fort
by
Regina Jennings
My rating:
4 of 5 stars
Source: Netgalley for review.
Genre: Historical Christian Romance
Book Description
:
When dance hall singer Louisa Bell visits Fort Reno to see her brother, she is mistaken for the governess that the harried Major Daniel Adams is waiting for. Between his rowdy troops and his two daughters, he has more responsibility than he can handle alone. Eager for the opportunity, Louisa sets out to show the widower that she is a perfect fit.
My thoughts
: What a hoot! This book is well written and a lot of fun to read.
Louisa Bell comes from questionable beginnings. She feels that she can not make much of herself because of others decisions that affected her life. She doubts God and she doubts herself. A fortunate circumstance fell into her lap and she rose to the occasion and learned and grew as a person. She is a woman of integrity, grit, and intelligence - in spite of what others tell her.
I loved watching Louisa grow and see the positive impact she had on the children in her charge. It was because of her upbringing that she was able to see what the girl needed and help them live lives or refinement and fun. Her journey is painful, but inspirational. It is proof that your beginnings do not determine your endings.
Major Daniel Adams is a fair man. He comes across as stern, but deep inside he is a man of compassion, fairness, and strength. I loved having part of the story told through his eyes.
The two girls, Daisy and Caroline are a treat. Particularly Daisy, she was so much fun to read about. She has a free spirit, and I loved that Louisa encouraged it and helped her temper it for the occasion. I also loved that the story was set in the Old West and dealt with the expansion of the United States in "Indian" territory. Major Adams was wonderful with the tribes and encouraged positive relations. Now I know this is a fictional story, but I would like to believe that there were men and women of integrity who saw the value of the Native Americans and their way of life.
This is a fantastic book. There isn't a lot of violence for the setting and time period. There is a little bit of kissing and mention of a lives that were "soiled". I would recommend this book as clean and encourage anyone and everyone to read it. There are Christian themes, but the book is far from preachy.
Online Purchase Links:
About the Author:
(taken from Goodreads)
Regina Jennings is a graduate of Oklahoma Baptist University with a degree in English and a history minor. She has worked at The Mustang News and First Baptist Church of Mustang, along with time at the Oklahoma National Stockyards and various livestock shows. She now lives outside Oklahoma City with her husband and four children.