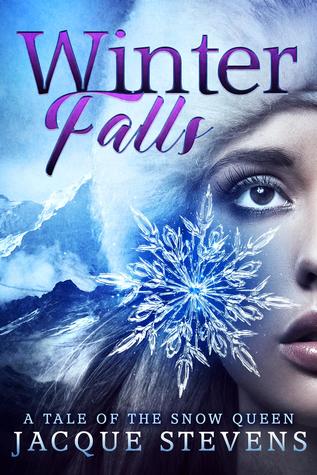 Winter Falls: A Tale of the Snow Queen
by
Jacque Stevens
My rating:
4 of 5 stars
Source: Received electronic copy from eBooks for review
Genre: YA Fairy Tale Retelling
Book Description:
Katie knows better than to believe in happy endings.
She learned there was no such thing after her mother died. In the postindustrial town of Riverside, Katie struggles to care for her distant father and his failing hotel. Her only comfort lies in the arms of her true love, Shay.
Yet one evening, he disappears without a trace.
Devastated, Katie jumps off a bridge in winter, expecting to meet death in the frozen water below. Instead, her fall transports her to a snowy netherworld, where trapped souls take on the form of animals and the only thing that matters is survival.
Then Katie discovers that Shay has been kidnapped by a deadly sorceress called the Winter Queen. She goes on a journey to find him, traveling through the realms of storybook fairies, princesses, thieves, and monsters to bring him home. But the path is harsh and dangerous. Will Shay and Katie be reunited? Or be forever trapped within an eternal winter?
A retelling of the classic fairytale
The Snow Queen
, WINTER FALLS is a young adult epic fantasy romance which examines the trials of depression and mental illness in a magical world of action and adventure.
Teen fans of C.S. Lewis and Shannon Hale will love this inspirational novel by author Jacque Stevens.
Clean romance. MILD+ Content rating on MyBookRatings for references to alcohol abuse, suicide, and other serious topics. Recommended for teen readers ages 14 and up.
My thoughts
: I enjoyed this retelling of the
Snow Queen
. I have to admit that I am not as familiar with this tale as others, although I have been fascinated by it.
Katie is a young woman who experiences many changes and heart ache in her life. Her mother jumped from a bridge when she was small, she lives with her father in an inn that is struggling to make ends meet, and then her father remarries. It is a lot for a young woman to deal with. She also has a challenge of not being very social and not fitting in with her peers. There is one boy who seems to stick around, Shay, his attention is confusing.
Katie enters another realm after the Snow Queen comes and takes Shay with her. She meets the fairy of the four seasons and goes on a quest to remove him from Winter's hold. Through visions, she knows that she must get to him soon or face loosing him forever.
This tale is well told. I enjoyed the action, adventure, romance, and the creatures that inhabit the other realm. They are part human and part animal. They are very interesting and the way the interact and live is creative. Jacque Stevens has taken an old tell and breathed a different life into it. If you enjoy retellings, you may like this one. It is clean with a little bit of violence, an attempted suicide, and kissing.
Online purchase link:
About the Author
: (Taken from Goodreads)
Jacque Stevens wrote her first novel as a stress relief activity during nursing school. Now as a fulltime nurse working in mental and developmental health, she continues to write stories filled with elves, fairies, and all things awesome.
She lives in Utah so yes, she does have a huge extended family and occasionally eats green jello, but she does not yet own a minivan.