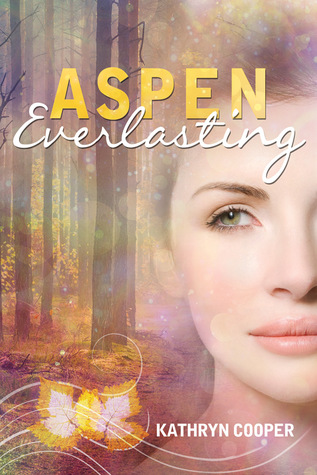 Aspen Everlasting
by
Kathryn Cooper
My rating:
4 of 5 stars
Source: Received eBook from publisher to review
Genre: YA Fantasy
Book Description
:
Water splashed on all sides then took control of the tires. The car swerved right toward the river.
"No. NO. NO!" I turned the wheel toward the road. It didn't work. Fast running water pulled the car into the flooded river.

Aspen Foster thinks she's just a normal sixteen-year-old, but when her car's caught in a flash flood, Aspen and her sister discover the superhuman strength they never knew they had.

Soon Aspen learns she's not normal at all. She's an Evermortal fairy, with powers beyond her wildest dreams. But the more Aspen finds out about her family's past, the more dangerous her future becomes.

This riveting fantasy is full of action, adventure, and romance. Suspenseful and exhilarating!
My thoughts:
When Aspen and her sister are caught in a flash flood, they rescue their two friends and discover that it was not " adrenaline" that helped them all stay alive. Their parents have kept secrets from them about their heritage. They belong to a group descended from fairies, but many of the powers were lost. They are there to protect mankind.
This revelation leads to a lot of action and danger. Trouble has been brewing in their homeland and the family must band together to stop the evil Queen.
I enjoyed the fantasy aspect of this book. This is a different kind of fairy than I usually read. The setting is new and unique and the characters enjoyable. The plot felt solid to me and had a great pace.
It seemed as if everyone accepted the changes a little too easy. Some of the plot points were glossed over, but I am not sure how Kathryn Cooper could have changed that. This book is written for the YA market and is perfect for it's readership. I think this is a solid debut and I look forward to reading more from this author. I think that this book may have more to follow, there are several places she can take it and it may delve into the fairy realm.
You can purchase a copy at:
About the Author
:
Kathryn Cooper lives in the heart of Texas with her husband and four young boys. She has read and blogged about other authors' books for years. She is excited to finally have her own book out for readers. "Aspen Everlasting" is her first novel.
Visit the tour stops: