Solving Sophronia
by
Jennifer Moore
My rating:
4 of 5 stars
Source: Received to Review
Genre: Victorian Romance/Mystery
Book Description
:
Lady Sophronia Bremerton is a far cry from the typical debutante, but she's the toast of London's upper class for one simple reason: she's a society columnist for the London Illustrated News, and the gentry loves seeing their exploits printed in the gossip pages. But Sophie has bigger plans - she aspires to be an investigative reporter. When a stuffy ballroom at yet another Season proves to be nothing more than the usual rumor mill, Sophie seeks respite in the library alongside four other young women who, for their own reasons, are also looking for escape. As the conversation turns to their secret ambitions, the women form a sisterhood and a bold plan: they will make their dreams a reality, no matter the obstacles. Thus begins the Blue Orchid Society.
Hearing of a murder in a London rookery, Sophie seizes the opportunity to prove her skills. Detective Jonathan Graham doesn't believe a civilian, a noblewoman at that, should be anywhere near a murder investigation, but Sophie insists on helping bring the killer to justice. Her investigative prowess doesn't go unnoticed by the police, especially Jonathan, who can't decide whether this intrepid reporter is a thorn in his side or the woman of his dreams. But as the case grows more complicated and dangerous, their very lives - and their hearts - may be at risk.
My thoughts
: In the Victorian Era, being a woman was tough. They were on the verge of gaining freedoms, but society wanted to hold them back.
The Blue Orchid Society
is a series of books that feature women who have dreams and all of them meet to discuss their plans and ways to accomplish them.
This book features Sophronia, she wants to be a writer for the newspaper, not just the society columnist. She longs to be taken seriously and shows that she is capable of contributing more than inconsequential information.
Sophie has a big heart. She understands people of all classes. She looks at who they are inside rather than just their place in society. She is born as a Lady but is not recognized by her family as being relevant to their way of life. She is caught between two worlds and trying to find her place in life. She begins to prove her worth as a journalist when she partners with Detective Graham in solving a string of murders. I loved their partnership. He is reluctant to trust a woman but soon realizes that her experience and attention to detail are valuable.
This is a very interesting and fun book. It's not too gory or violent. Sophie is shielded from the worse aspects of murder. This book has just the right amount of mystery and romance.
Source: I received a complimentary copy. All thoughts and opinions expressed are my own.
Online Purchase Links: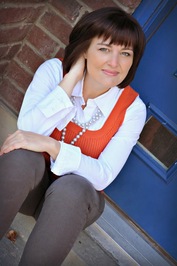 About the Author
:
Jennifer Moore is a passionate reader and writer of all things romance due to the need to balance the rest of her world, which includes a perpetually traveling husband and four active sons, who create heaps of laundry that are anything but romantic. Jennifer has a BA in linguistics from the University of Utah and is a Guitar Hero champion. She lives in northern Utah with her family.
There is a companion novella that introduces the series. I loved it! It is free for your
kindle!