Love Unscripted
by
Tiffany Odekirk
My rating:
4 of 5 stars
Source: Received to Review
Genre: Contemporary LDS Romance
Book Description
:
Evie Jennings doesn't believe in happily ever after—it's been a year since moving home to Los Angeles to gather the pieces of her broken heart after her divorce, but she is only going through the motions. That is, until a chance encounter on her college campus brings about an unexpected turn of events: Evie finds herself face-to-face with the heartthrob whose poster decorated the wall of her teenage bedroom. And he's desperate for her help.
Hollywood sensation Ridge Dashly is facing a career crisis—a bad review threatens his A-list status. Desperate to win back the favor of the media and his fans, Ridge reluctantly agrees to enroll in college, never dreaming he'll meet someone who can see past his fame to his true self.
As their paths continue to cross, Evie's seeming disinterest intrigues Ridge, and the pair form a tentative friendship that slowly grows into something more. But when confronted with the unrelenting paparazzi and the nagging shadows of their pasts, will they follow everyone else's script or fight for their own happy ending?
My thoughts:
My list of books to read keeps growing. I enjoyed this book so much, that now I have to read the book about the MC's twin sister,"Love on Pointe" . This book is a stand alone, but I am now fascinated by the characters and have to know more.
This book is about Evie Jennings. She has made some mistakes in her past and doesn't trust herself when it comes to love. She carries a lot of regret and hasn't learned to forgive herself. Her story begins with a very funny scene. She meets a movie star in the ladies room. It is a great start to a book. She shows her creativity every time she is with Ridge Dashly.
Ridge is a pretty down to earth movie star. He too has regrets and issues. I loved how they help each other through crisis and are friends before there is a romance. The book does have a small love triangle. As a reader, I of course knew how it had to end. There is a lot of emotional turbulence before a "happy ever after" can be accomplished. This book makes you feel good and gives hope for those who are struggling with past mistakes. The process of repentance and forgiveness is illustrated as Evie makes changes in her attitude and her life.
The book is written from an LDS prospective. The characters are religious and there are situations and lingo that written specifically to an LDS audience. This book is clean with kissing. There is reference to past sexual indiscretions, but nothing is graphic.
Online Purchase Links: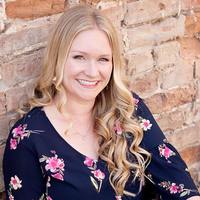 About the Author:
(Taken from Goodreads)
Tiffany Odekirk believes cooking should take less than thirty minutes, frosting is better than ice cream, and all books should end with happily ever after. After graduating from Brigham Young University with a degree in Marriage, Family, and Human Development, Tiffany completed an internship with LDS Family Services in adoption and then went on to work with homeless women and children in the non-profit sector. Married to a Broadway star, Tiffany's days are filled with music, and her nights are spent writing the types of characters she hopes her children will one day marry.
Enter the Tour Giveaway!
a Rafflecopter giveaway
Visit the Tour Stops: