Together Forever
by
Jody Hedlund
My rating:
4 of 5 stars
Source; Received to review from Netgalley
Genre: Historical Christian fiction
Book Description
:
Will the mistakes of their past cost them a chance at love?
Determined to find her lost younger sister, Marianne Neumann takes a job as a placing agent with the Children's Aid Society in 1858 New York. She not only hopes to offer children a better life, but prays she'll be able to discover whether Sophie ended up leaving the city on an orphan train so they can finally be reunited.
Andrew Brady, her fellow agent on her first placing-out trip, is a former schoolteacher who has an easy way with children, firm but tender and friendly. Underneath his charm and handsome looks, though, seems to linger a grief that won't go away--and a secret from his past that he keeps hidden.
As the two team up, placing orphans in the small railroad towns of Illinois, they find themselves growing ever closer . . . until a shocking tragedy threatens to upend all their work and change one of their lives forever.
My thoughts
: My list of book to read keeps growing. I haven't read the first book in this series, and now I NEED to because I enjoyed this one!
This book is set in New York City, a train, and rural town in the country. I liked "seeing" the transition between city life and country life in the 1850's. The book also covers some dilemma's of the time... was it in the best interest of the child to send them to a new home without knowing the conditions the child would be living in? I must admit that I was anxious along with the characters about whether the home would be a good one and the child would be taken care of.
I enjoyed this book. I liked the characters, plot, and setting. The bright spot was some of the children. I think that was one of the reasons that it was sad for me to have them placed in a home and not on the train and towns with the main characters.
This book is a romance, but it is more than romance. It is a story about love, unconditional love. It was heart wrenching to have a precious little boy not be chosen right away by a family. Marianne showed love to others above herself on numerous occasions. When the tragedy strikes, she is there with love and compassion. The story is also about forgiveness, not only of others, but of oneself.
I highly recommend this book. I look forward to reading the first book, an the third when it comes out.
This book contains kissing and non-graphic violence.
Online Purchase Links: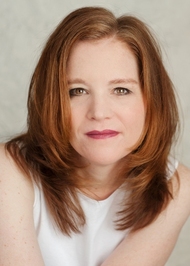 About the author:
(Taken from Goodreads)
Winner of the 2016 Christian Book Award for fiction and Christy Award for historical romance, best-selling author Jody Hedlund writes inspirational historical
romances for both youth and adults.
Jody lives in central Michigan with her husband, five busy children, and five spoiled cats. Although Jody prefers to experience daring and dangerous adventures through her characters rather than in real life, she's learned that a calm existence is simply not meant to be (at least in this phase of her life!).
When she's not penning another of her page-turning stories, she loves to spend her time reading, especially when it also involves consuming coffee and chocolate.