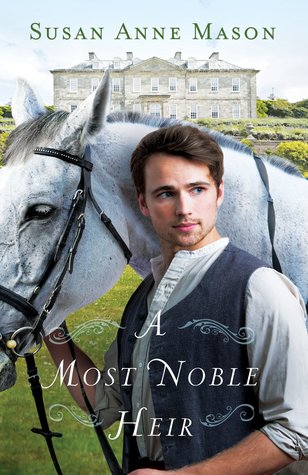 A Most Noble Heir
by
Susan Anne Mason
My rating:
4 of 5 stars
Source: Received to Review
Genre: Historical Romance
Book Description
:
Will gaining the world cost him everything he holds most dear?
When stable hand Nolan Price learns from his dying mother that he is actually the son of the Earl of Stainsby, his plans for a future with kitchen maid Hannah Burnham are shattered. Once he is officially acknowledged as the earl's heir, Nolan will be forbidden to marry beneath his station.
Unwilling to give up the girl he loves, he devises a plan to elope--believing that once their marriage is sanctioned by God, Lord Stainsby will be forced to accept their union. However, as Nolan struggles to learn the ways of the aristocracy, he finds himself caught between his dreams for tomorrow and his father's demanding expectations.
Forces work to keep the couple apart at every turn, and a solution to remain together seems further and further away. With Nolan's new life pulling him irrevocably away from Hannah, it seems only a miracle will bring them back together.
My thoughts
: I was entertained from start to finish by
A Most Noble Heir
. It was easy for me to become caught up in the story and enjoy the characters. I loved some of themes. My favorite was about love and how it can change a person. Do you fight for love, or do you let it go and become lost and bitter? In this novel there are no easy answers.
The book contained many secrets. It seemed as if everyone was holding on to some secret and making life miserable for themselves. Susan Anne Mason did a great job of revealing them at a steady pace and helping the story move along. I couldn't help but cheer for the characters and hoping for a happy resolution.
This is a rags to riches story that uplifts. The situation was hard, but I feel that the characters acted with valor and stayed true to themselves and their values in the end.
This was a great escape read for me. I was edified, entertained, and amused. The book contains kissing, fade to black intimacy, Christian themes, an non-graphic violence.
Online Purchase Links:
About the Author: (Taken from Amazon) Susan lives in a suburb near Toronto, Ontario, Canada, where she works part-time as a church secretary. She is a wife and the mother of two amazing kids, and is a member of American Christian Fiction Writers (ACFW) and Romance Writers of America (RWA). In addition to writing, she likes to scrapbook and to research her family history on-line. You can connect with her on Facebook or on her website www.susanannemason.net.