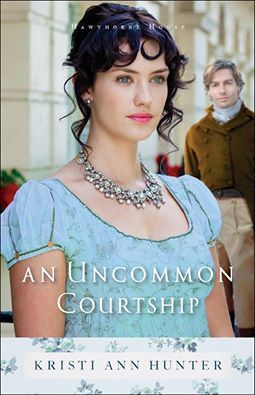 An Uncommon Courtship
by
Kristi Ann Hunter
My rating:
4 of 5 stars
Source: Netgalley (for review)
Genre: Historical Christian Fiction
Book Description
:
When her mother's ill-conceived marriage trap goes awry, Lady Adelaide Bell unwittingly finds herself bound to a stranger who ignores her. Lord Trent Hawthorne, who had grand plans to marry for love, is even less pleased with the match. Can they set aside their first impressions before any chance of love is lost?
My thoughts
: I enjoyed this marriage or ruination story. I also enjoyed catching up with characters from the previous stories in this series. This book is the third, but can be read as a stand alone.
Trent makes the decision to marry Adelaide when they spend the evening together after an accident. He is a man of honor and abandons his plans to marry for love.
This romance has some humorous moments. Trent decides to court his wife. Their marriage at the beginning is shaky. They do not know how to communicate with the stranger they are currently living with.
This book had moments when I wanted to hit them with my tablet. Trent knows how to completely bungle things. He overthinks and overreacts. Adelaide has spent her life living in the shadows of her older sister and is wonderful at retreating into her books.
The book shows the progression of their relationship. The extended family added many wonderful moments. I loved it when the family ganged up on Trent, he deserved it.
This book has a strong Christian element. It is clean with kissing and fade to black intimacy.
online purchase links:
About the Author: (Taken from Goodreads)
Kristi Ann Hunter graduated from Georgia Tech with a degree in Computer Science but always knew she wanted to write. Kristi is an RWA Golden Heart contest winner, an ACFW Genesis contest winner, and a Georgia Romance Writers Maggie Award for Excellence winner. She lives with her husband and three children in Georgia. Find her online at
www.kristiannhunter.com
.