A Note Yet Unsung
by
Tamera Alexander
My rating:
4.5 of 5 stars
Source: Received from the Publisher to Review
Genre: Christian Historical Fiction
Book Description
:
Despite her training as a master violinist, Rebekah Carrington was denied entry into the Nashville Philharmonic by young conductor Nathaniel Whitcomb, who bowed to public opinion. Now, with a reluctant muse and a recurring pain in his head, he needs her help to finish his symphony. But how can he win back her trust when he's robbed her of her dream?
My thoughts
: Oh my goodness! What a wonderful story. This book has cemented Tamera Alexander as one of my favorite authors.
One thing that I love about historical fiction is when I learn something interesting. I did not know that at one time women were not encouraged to play the violin. It was considered a manly instrument and men were allowed to perform on stage. Really? Wow! I am so grateful for the women who paved the way for me to have had the experience of playing the violin on stage in an orchestra.
The love story between Tate and Rebekah begins on a "sour note." (Pun intended.) Really it was a miscommunication of intent, but I loved Rebekah's gumption and willingness to put herself in uncomfortable situations to go after her dream.
The way their past unfolds and their secrets revealed was well written. This story is great from start to end. This is the third book in a series. Characters from the previous two are mentioned, but this book can be read as a stand alone.
The book contains Christian themes, non-graphic violence, non-graphic sexual assault, and kissing.
Online purchase links: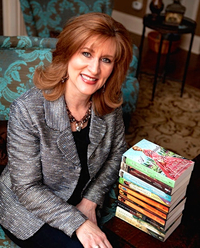 About the Author:
(Taken from Goodreads)
Tamera Alexander is a USA Today bestselling author and one of today's most popular writers in the inspirational historical fiction genre. She and her husband live in Nashville, Tennessee, not far from the Southern mansions that serve as the backdrop for six of her award-winning novels.