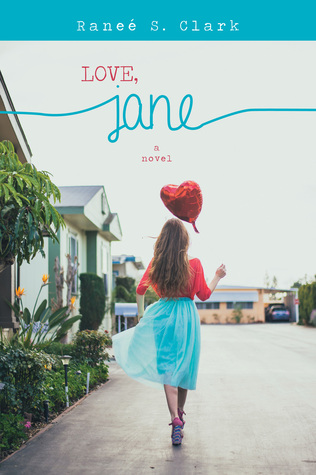 Love, Jane
by
Ranee S. Clark
My rating:
4 of 5 stars
Source: Received from the publisher to review
Genre: Contemporary LDS Romance
Book Description
:
Jane Reeves and Sean O'Callaghan seem to be a match made in heaven—but the timing is all wrong. Jane has her heart set on serving a mission, and she can't delay telling Sean the news any longer: not only has she quietly submitted her mission papers, but she's also leaving in a month ... for Alaska. Shocked and devastated, Sean struggles to come to terms with Jane's decision. Unable to deny the depth of their feelings for one another, Sean makes a promise to wait for her.
Life unfolds for both Jane and Sean, with communications limited to weekly e-mails. But with just a few months left in Jane's mission, Sean's messages stop. When she receives the dreaded "Dear Jane" breakup along with the news that she has been replaced by Sean's former flame, Jane knows the future she envisioned now belongs to another woman. But upon her return home, Jane quickly realizes some things are worth fighting for—perhaps, most of all, a shot at true love.
My thoughts
: This book is split up in three parts. Basically the first part is Jane falling in love with Sean. Jane then telling Sean that she is going on a church mission. The second is events that happened to both Jane and Sean while she was away. The third is Jane deciding to fight for Sean so they can be a "happily-ever-after." None of that is a spoiler because it's in the book description.
The book is really about the emotions that come from commitment, integrity, friendship, and love. Jane and Sean have to explore their feelings throughout most of the book. Neither of them take their decisions lightly. I felt that the book centered on more what you would sacrifice for love, be it romantic love or a love of religious beliefs.
There were a few parts that made me uncomfortable, I knew what the characters should do, but the author had them come to their own conclusions. There was one character that I thought was a big manipulator, so she was not on my favorite person list.
This is a cute book that is centered around religious beliefs, even though it didn't come across as preachy. The characters were living lives with faith. It was fun to catch up with a few characters from previous novels. While the books contain the same characters, each stands alone.
This book is clean with kissing.
Where can you purchase a copy online?
Visit the Tour Stops:
Enter the Tour Giveaway:
a Rafflecopter giveaway