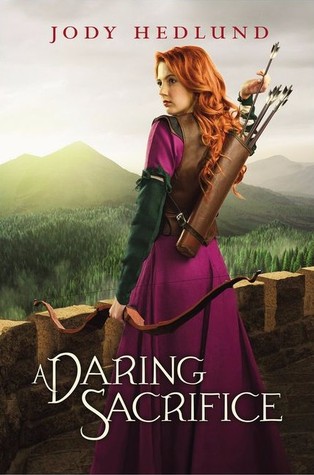 A Daring Sacrifice
by
Jody Hedlund
My rating:
4 of 5 stars
Source: Netgally (for review purposes)
Genre: Medieval Romance
B
ook Description:
The only thing harder than fighting for what's right…is fighting their feelings for each other.
For three years, the Cloaked Bandit has terrorized Wessex, robbing the nobility by knifepoint and a well-placed arrow. But little dos anyone know, this bandit is in fact Juliana Wessex, the rightful ruler of the land and a girl her tyrannical uncle—the current Lord Wessex—believes was killed along with her father.
Juliana has become skilled at hiding from Lord Wessex in the forest, using her stolen goods to provide food and shelter to the peasants her uncle has taxed into poverty. But when she robs Collin Goodrich, her red hair betrays her true identity. Lord Collin remembers Juliana from their childhood—and challenges her to stay on his estate for a week in hopes she will leave her thieving ways and become a proper lady once more. Juliana is intrigued by Collin and his charms, but only time will tell if he can overcome her distaste of the nobility—as well as win her heart.
My thoughts:
Juliana is a woman on a mission. Her father was tortured and murdered before her. She lives among the peasants who have been misused by her Uncle's tyrannical rule. She steals from him in order to provide for her family in the forest. The book has a Robin Hood feel to it.
In a moment of daring, she decides to push her luck and steal from the neighbor her teased her as a girl. She has never forgiven Collin for his teasing about her red hair. His purse is hefty and he could provide the means to care for her band during the winter. She didn't count on his tracking abilities.
The book has many humorous moments. I really enjoyed the relationship between Collin and Juliana. He knows how to push her. He is an easy going noble, who finds himself challenged by Juliana's stubbornness. Their banter back and forth was fun to read.
The book has romance, the righting of wrongs, mentions of torture, revenge, jealousy... many of the things that make for an interesting plot. I found the pacing to be well done and the found myself caught up in the story.
This is the second book in a series. It can be read as a stand alone. Each of the books follows a knight from the first. It looks like there will be another. I look forward to reading it. The first book is
An Uncertain Choice.
I gave it four stars.
You can purchase a copy at:
About the Author: (taken from Goodreads)
Jody Hedlund is an award-winning and bestselling author of inspirational historical romances including books for adults and youth. She currently makes her home in central Michigan with her husband and their five busy children.
As a busy mama-writer, she has the wonderful privilege of teaching her crew of 5 children at home. In between grading math papers and giving spelling tests, she occasionally does a load of laundry and washes dishes. When she's not busy being a mama, you can find her in front of her laptop working on another of her page-turning stories.
She loves reading almost as much as she loves writing, especially when it also involves chocolate and coffee.