(The Lily Sparrow Chronicles #1)
by Kristee Ravan
YA Urban Fantasy
Paperback, 367 pages
March 17th 2014
Fairy tales are naturally non-mathematical. That is a fact, and fifteen-year-old Lily Sparrow loves factual, mathematical logic. So when her mother confesses that Lily's deceased father is (a) not dead, (b) coming to dinner, and (c) the ruler of a fairy tale kingdom accessible through the upstairs bathtub, Lily clings to her math to help her make sense of this new double life (1 life in the real world + 1 secret life in the fairy tale world = a double life).
Even though it's not mathematical, Lily finds herself being pulled into a mystery involving an unhappy Cinderella, a greasy sycophant called Levi, and a slew of vanishing fairy tale characters. Racing against the clock, with a sound mathematical plan, Lily attempts to save her fairy tale friends while proving that normality = happiness.
Amazon
*
Barnes & Noble
Read a Guest post by Kristee Ravan
A Book About Math? Really??
I need to let you in on a little secret. There's math in my book. Probably an above average amount. It's not a math book, but there is way more math in it than you would find in a regular book. And while I don't think I'm BFFs with math, I do think I'm friendly with math. Which is interesting because there was a time in my life that math and I were not friendly at all.
I don't remember thinking much about math at all until second grade when we started borrowing in subtraction. I was bad at this. Not just bad—abysmal. Somehow we got through and I understood it enough to function. And when my daughter started learning borrowing recently, (except they now call it "renaming with subtraction.") I was able to help her without breaking out in hives and thankfully, she seems to have a better grasp on it than I ever did.
After that first experience where math came into the forefront of my mind, I was left with kind of a bad taste about math. Also, with the impression that I wasn't great at it. However, my elementary self wasn't really too concerned about this because there were books. Lots and lots of books to read. I had (have) a passion for reading. Math was just something you had to do and when you finished you could read again.
In eighth grade, Mrs. Green taught pre-algebra. And because math-passion spilled out of her, I really liked this class. She also taught a fun math class, called Aftermath, as an elective. I loved this class. And it was pretty popular at our school, too. The whole premise of the class was that math is fun. We did logic puzzles and used manipulatives and cracked codes. I still didn't love math, but I no longer thought of it as just something to get through.
In high school, Algebra I was tough for me. I was confused a lot and struggled some. Geometry was worse. Our teacher used a "teach yourself" method where he had us quietly read the lesson and do the assignment. Then the next day he would allow us to ask a few questions over the homework, before we handed it in. My next math teacher, Mr. Herring, was exponentially better. I didn't fall in love with math in Algebra II, but Mr. Herring undid a lot of my earlier confusion and he actually taught his class, which was a big plus.
I loved Trig and Pre-Calculus my senior year. Really loved. My teacher, Mr. Holmes, had been my teacher for Algebra I, but now things were clicking for me—probably because of Mr. Herring's patient teaching. Pre-Calc , especially, was like a big puzzle for me. And I was good at solving it. I did have to really study and work hard in these classes, but I liked that too. It was challenging, not like the rote memorization that came easily to me for other classes.
But probably the biggest reason math and I went from frenemies to actual friends is that I decided we would. Somewhere along the way, I learned I could just decide I would not be afraid of something and that by changing my attitude, I could like it instead. Spiders—check. Storms—love them now. Tomatoes—I think they're tasty. (To be clear, I wasn't afraid of tomatoes. I just didn't like them, then I decided I would.) But I also saw that math wasn't too popular with my peers. I like things that aren't mainstream. It took me five years to read The Hunger Games because I don't like to jump on fad bandwagons. (I have read and enjoyed THG.)
So if you like to solve puzzles and like being different—then decide that you like math and check out The Cinderella Theorem. (Although if everyone decides they like math, it won't exactly be different anymore, will it?)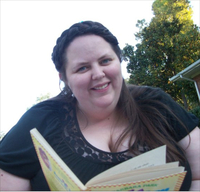 Kristee Ravan
lives in Oklahoma with her husband, daughter, and pet fish, Val (short for Valentine). She wanted to be many things as she grew up including a general, an artist, and an architect. But she never bothered to say, "I want to be a writer when I grow up." She was always writing stories and thought of herself as a writer anyway. She sent her first story to a publisher in the sixth grade. (It was rejected - in a nice way.) When she is not making up stories in her head, she enjoys reading, juggling, green smoothies, playing dollhouse with her daughter, and hearing from her fans. You can contact Kristee at the facebook page for her Lily Sparrow books: The Lily Sparrow Chronicles.
5 copies of The Cinderella Theorem (print for US winners, ebook for international winners)
Ends August 31st