A themed book tour through
Prism Book Tours
.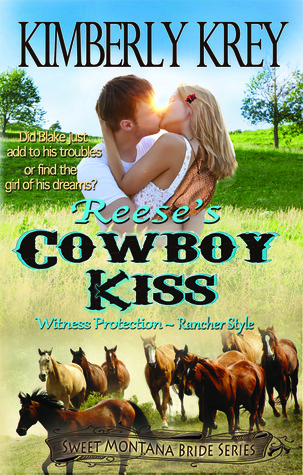 Reese's Cowboy Kiss
(Sweet Montana Bride #1)
by Kimberly Krey
Adult Romance
Paperback, 307 Pages
May 13th 2014 by Candle House Publishing
Texan pageant winner, Reese Taylor, has a former classmate who wants her dead. Now she must leave her friends and family to enter a protection program on Emerson Ranch. A group of good-looking cowboys awaits her, but Reese has her eye on Blake Emerson, the one man too busy with the ranch to give her a chance.
Blake Emerson has no time to go lookin' for love. He's got a ranch to run, positions to fill, and an ache in his heart from love gone wrong. So when he agrees to harbor a witness to help on the ranch, Blake assumes his first two problems are solved. But he never dreamed his new guest would be a woman. One he was destined to lose his heart to.
With sparks burning hot and danger around the bend, one question lingers in his mind: Has he only added to his list of troubles, or has Blake just found the woman of his dreams?
*While this book is considered clean romance, it contains passionate kissing and a few mild curse words.*
My thoughts
: Kimberly Krey does an amazing job at creating a story that is fun and entertaing. Reese's personality takes the cuteness and fun factor for a female MC to a fantastic level. She is down to earth, even though she is a beauty queen. She does an amazing job at rolling with circumstances even though her life changed because of one obsessive man.
The secondary characters are likable. Blake is a man with a strong character. It's fun to see how he fights his attraction to a woman who he has sworn to protect.
Other Books in the Sweet Montana Bride Series:
About Kimberly Krey
I'm a writer of contemporary clean romance, a lover of home, family, & friends, & the ultimate hater of laundry.
A few of my favorite things: Diet Coke, Cafe Rio, and novels by Marcia Lynn McClure.
- $100 Amazon Gift Card
- Open Internationally
- Ends August 10th
a Rafflecopter giveaway