Charlotte's Promise
by
Jennifer Moore
My rating:
4 of 5 stars
Source: Received to Review
Genre: Historical Fiction/Romance
Book Description
:
One year ago Charlotte Bower's life was ripped apart when Creek Indians attacked, killed her parents, and separated her from her young brother—now, she will stop at nothing to find him. After a year of captivity, she has finally made her escape. Her search will begin in New Orleans, where captives were taken after the raid. But how to reach a city hundreds of miles away? As she watches men boarding a waiting ship, Charlotte formulates a bold plan: if it's men they need for the ship's crew, it's a man they'll get. Taking on her childhood nickname, Charlie, it is all too easy to gain passage on the New Orleans-bound vessel. Easy, that is, until Charlie is caught . . .
From the moment he sets eyes on the new deckhand, Captain Alden Thatcher knows one thing for certain: Charlie Bower is no man. But for reasons of his own, he keeps her secret. As their journey progresses, however, the voyage is increasingly ill-fated. With danger ever present, Charlie and the captain find themselves relying on one another in ways they'd never imagined. As they draw closer to her goal, Charlotte is faced with the most perilous adventure of all—an adventure that may risk her heart.
My thoughts
: This book is fascinating. I had no idea that people captured by tribes were sold into slavery?! It probably shouldn't have. History has proven that corrupt people make money off of the downtrodden and others like to have cheap labor at the expense of the health and wellbeing of those they enslave. Sorry, I shouldn't go off on a social thing during a review. :)
So, back to the book. Charlotte is an amazing woman. She is strong and has a good head on her shoulders. She works hard and is determined to find her brother who was taken from her after her parents were murdered. She is not to take on tasks that are hard and shows compassion to those who are not kind to her. Her love of her shipmates wins them over and she becomes a member of the crew, even though she is trying to hide the fact that she is a woman.
The romance is slow. Really, how could it be anything but slow? Alden trying to hide the fact that he knows she is female and Charlotte is trying to not let anyone know she is a woman. It is kind of a sticky situation.
This book contains action and adventure. The story is set during the War of 1812. Captain Alden Thatcher is trying to get his goods to New Orleans to sale, but they have to avoid the British and not become part of the conflict. That is not an easy task. The War of 1812 is not a popular setting for the books I like to read. My eyes were opened a bit to this tumultuous time in US history.
I love Jennifer Moore's writing style and her books. This was another great one to add to her work.
Source: I received a complimentary copy. All thoughts and opinions expressed are my own.
Online Purchase Links: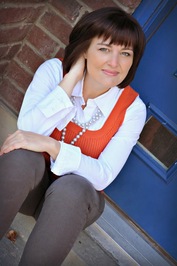 About the Author
: (Taken from Goodreads)
Jennifer Moore is a passionate reader and writer of all things romance due to the need to balance the rest of her world, which includes a perpetually traveling husband and four active sons, who create heaps of laundry that are anything but romantic. Jennifer has a BA in linguistics from the University of Utah and is a Guitar Hero champion. She lives in northern Utah with her family.
Enter the Tour Giveaway:
(Prize and winner notification will be provided by Covenant Communications.)
a Rafflecopter giveaway