Miss Leslie's Secret
by
Jennifer Moore
My rating:
4.5 of 5 stars
Source: Received from the publisher to review
Genre: Scottish Regency Romance
Book Description
:
Decorated war hero Conall Stewart has spent ten years envisioning his return to his beloved Scottish Highlands. But now, with the days of battle finally behind him, it seems that his dreams of home have been in vain: the land of his youth lies in ruins, and his family is gone. Though he will never stop searching for his kin, Conall knows he must begin again. But when he takes on a rented farm in a nearby town, he finds far more than the fresh start he was looking for . . . After catching a mischievous local lad stealing, Conall returns young Jamie to his mother, Aileen Leslie—and finds the woman's coddling of the child maddening. What Conall does not realize is that Aileen hides a frightening secret: her devoted protection of Jamie is all that shelters them from discovery by a dangerous man from their past. Drawn together by circumstance, Conall soon develops a fatherly relationship with Jamie—as well as romantic feelings for Aileen. But even as the couple accepts their growing affection for one another, time runs out for Aileen and her son: after years of hiding, they have been found. Conall lost his family once—he will do all in his power not to let history repeat itself . . ..
My thoughts
: Miss Leslie is guarding a secret. Her secret is one that she holds close to protect those she loves. She is a loving and giving person who is willing to put her life in limbo to help a friend.
Conall Stewart came home from war to find his family home burned, and his family scattered. He wants the sense of family and community that he remembered before he left his home for 10 years as a soldier. He has a strong sense of duty and a commendable character.
From the moment that Aileen Leslie and Conner met there were sparks. First words, and then attraction. Conner's influence on Aileen's son is wonderful. It shows what hard work, positive words, and mentoring can do to help a child who is struggling. I enjoyed the relationship between the three. It is based on love and respect.
The book looks at parts of Scottish history that I was unaware of. I enjoyed learning a little while being entertained. Jennifer Moore is a talented author.
This book is fantastic and I give it a high recommendation.
Online Purchase Links: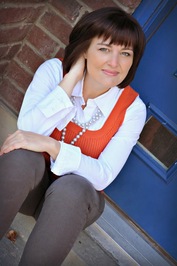 About the Author:
(Taken from Goodreads)
Jennifer Moore is a passionate reader and writer of all things romance due to the need to balance the rest of her world, which includes a perpetually traveling husband and four active sons, who create heaps of laundry that are anything but romantic. Jennifer has a BA in linguistics from the University of Utah and is a Guitar Hero champion. She lives in northern Utah with her family.
Enter the Tour Giveaway
(Winner notification and prize will be coming from Covenant Communications,)
a Rafflecopter giveaway
.
Visit the Tour Stops!