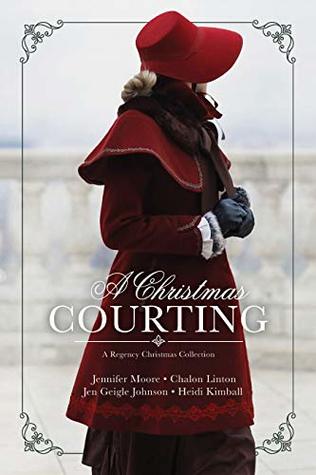 A Christmas Courting
by
Jennifer Moore
My rating:
4 of 5 stars
Source: Received to Review
Genre: Clean Christmas Novella Collection
Book Description
:
This holiday season fall in love, with heartwarming tales of Christmases past in A Christmas Courting, an enchanting collection of Regency romances.
Love and Joy Come to You by Jennifer Moore
Lord Covington has planned a quiet holiday with his grieving mother but finds his plans rudely disrupted when lovely Cassie Weatherby and her young siblings are invited for Christmas. Despite his reservations, however, he begins to recognize in Cassie a kindred spirit.
A Christmas Courting by Chalon Linton
When obligations keep her in London, Keturah Hensley sadly anticipates missing the festivity of Christmas at her family's country home and the company of her best friend, Christopher Shepherd. When she learns that Christopher will be joining her family in London for Christmas, she is delighted--but her elation is short-lived. Christopher is coming to Town to court the woman of his dreams, and Keturah fears she may have lost the chance to win his love.
Mistletoe Memories by Jen Geigle Johnson
From childhood, Patrick, Duke of Montrose, knew he'd found his perfect match in Lady Alice Tarrington. When he's sent on a grand tour, Patrick is confident he'll marry his sweetheart upon his return. But when he receives word that Alice is to marry another, will he be too late to claim her heart?
Second-Chance Christmas by Heidi Kimball
Francie and Gerard have been friends since childhood, but their friendship ended when she declined his heartfelt proposal of marriage. However, when her interactions with Gerard's holiday houseguests provoke in Francie unexpected jealousy, she realizes she must fight for Gerard's affections or risk losing him forever.
My thoughts
: Christmas can be a magical time of the year. Homes are decorated, families gather, gifts are given. The novella characters in this book for one reason or another are not anticipating a "Happy Christmas."
The novella's are short and sweet. It seems rushed to have a courtship happen over a short time span, but in most of the stories, the characters knew each other before the opening of the book. It is a continuation of a relationship. The romance didn't feel rushed to me, but part of a natural progression.
I really enjoyed every single story. They are all well done.
Online Purchase Links:
Enter the Tour Giveaway:
(Winner notification and prize will be coming from Covenant Communications.)
a Rafflecopter giveaway
Visit the Tour Stops: