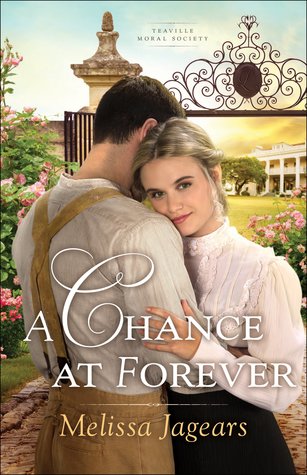 A Chance at Forever
by
Melissa Jagears
My rating:
4 of 5 stars
Source: Netgalley/To Review
Genre: Christian Historical Fiction/Romance
Book Description
:
Mercy McClain joined the school board to protect the children of Teaville, Kansas, from the bullying she experienced as a child. When the worst offender from her school days applies for a teaching position, she is dead set against it. Yet Aaron Firebrook claims to be a changed man. Can he earn Mercy's trust--and her support for the challenges to come?
My thoughts
: Can a person really change? What are morals? Those are some of the interesting thoughts that I had while reading this book. There are examples of cause and effect. Someone who is abused can become a bully. This book is about choices, the choice to change or live a life of unhappiness.
Mercy is an amazing character. She illustrated compassion throughout the book, but knows where the boundaries are. You cannot remain compassionate and let people use you. That is her dilemma in this story. Is she being swayed unfairly because of her compassionate nature? In spite of it all, she is positive, trusts, and is someone you would want on your side.
Aaron comes from a complex past. He is a contrast between being in control or being controlling. I loved that he was trying to give restitution for his mistakes. It takes a man of integrity and character to make things right, or at least try to.
I mentioned morals in the first paragraph, because there are characters who give the impression of having high morals, but their characters reveal that they are only moral as long as it is of benefit to them, or just pretend to have morals. This book gave me a lot to think about. What philosophies do we speak, and what do we really believe?
I should also mention that this is a fun book to read, besides thought provoking. The characters are well written, the pacing is great, and there is always some dilemma that needs to be taken care of.
It is clean with kissing. There is mention of prostitution and non-graphic violence. The book contains Christian themes.