Arms of Promise
by
Crystal Walton
My rating:
4 of 5 stars
Source: Received eBook from author to review
Genre: Contemporary Romance/Suspense
Book Description
:
A dancer who won't back down. A soldier indebted to a promise. The only thing more dangerous than the threat pitting them together is the secret keeping them apart.
Contemporary dancer Anna Madison is determined to honor her mom's memory. With the life she's built in downtown Chicago hinging on an upcoming audition, now's the worst time for her childhood best friend—and the only man she's ever loved—to reenter her world. Her dad's current DA case instigates enough danger without adding on the risk of losing her heart. Again.
Army Ranger Evan O'Riley has always known his place in Anna's life. Letting his feelings compromise her safety simply isn't an option. Especially when his promise to protect her drives him off the sidelines and into the one place even his special ops training can't save him from. Anna's arms.
Keeping her from uncovering the real reason Evan returns is one thing. Trying to hide the reason he left to begin with could destroy them both. But when the past they've both tried to outrun launches them down a heart-pounding road of threats, secrets, and attraction, resisting love may turn into the greatest risk they face.
If you like emotional romances mixed with humor, depth, and characters who come alive on the page, then you'll love Crystal Walton's moving story of love and forgiveness.
Read Arms of Promise today and be swept into a moving tale of romance and suspense that'll have you turning pages until the end.
My thougthts
: This book contains some of my favorite elements to read. This is a story about a second chances, independent characters, and suspense. This book is so nicely put together that it is hard to put down.
The two main characters have history. They grew up as best friends that turned into something more for both of them. The problem is that they didn't want to mess up the friendship by letting the other know of their feelings. Their time together ends in confusion for both of them.
This book takes place five years later. She is a struggling ballerina an he is a Ranger. Both have had events and disappointments shape them during their time apart. Once again, seeing each other brings out the feelings of confusion and both believe that they could never find more with each other. It complicates matters that he is there to protect her while her father works on a case that will put a bad man in jail.
The hardest part of this book for me is to see the main characters struggling to find what I knew as a reader that they needed. That is the beauty of reading a situation rather than living it. I enjoyed the romance part of the story, but I was more impressed at the level of respect that they had for each other. They truly had each others best interests at heart.
This is a great romantic suspense novel. This is the first time that I have read one of Crystal Walton's books and it won't be the last.
'
Where can you purchase a copy: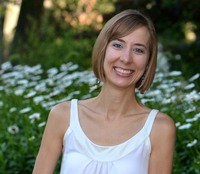 About the Author:
(Taken from Goodreads)
Amidst multiple moves up and down the east coast, Crystal received her bachelor of arts from Messiah College in PA, married her exact opposite in upstate NY, and earned her master of arts from Regent University in VA, where she currently resides with her husband. Crystal writes contemporary clean romance fueled by venti green teas from Starbucks.
When not working her accounting day job, she's delving into the wonder of words, supporting her Starbucks habit, or laughing over movie quotes & singing eighties songs with her husband.
She'd love to connect with you at
http://crystal-walton.com
and
http://facebook.com/crystalwaltonwrites