Love Sidelined
by
Tiffany Odekirk
My rating:
4 of 5 stars
Source: Received to Review
Genre: LDS contemporary Romance
Book Description
:
Jason Jennings made a tough call two years ago when he left behind his status as a
hard-partying star quarterback in order to serve the Lord. Recently returned from a mission now, he's ready to get back on the football field at UCAL. But despite turning his life around, his bad boy reputation is proving hard to shake.
Allie Hollis is everything a cheerleader should be--beautiful, outgoing, and smart--but her brilliant smile hides a devastating secret. So when Jason begins to show interest in her, there's no question: her answer is no.
Yet, in the face of Allie's chilly response, Jason's gentle persistence pays off, and a tentative friendship grows. Their chemistry is obvious, but Allie's determination to steer clear of a relationship with Jason goes deeper than he realizes. When the truth of her painful history comes to light, the couple must decide whether they will remain on the sidelines or jump back in the game of love.
My thoughts
: No one promised that the pathway to love would be easily traveled. Jace and Allie's story is one of pain, repentance, forgiveness, healing, and holding on to love. Their path is not easy, but it is beautiful.
I fell in love with the characters from the beginning. The way they met and the easy back and forth between them made this book a fun one to read. Both have a painful past that they have to cope with, at times it pulls them apart. The truth is that I preferred them together rather than separate, but the way that Tiffany Odekirk wrote their stories, the pain is worth the reward. I couldn't help but cheer from the sidelines and hope that the team I wanted to win was victorious.
I am grateful that I was given the opportunity to read this book. It was just what I needed to be reminded of the goodness of life and that good things can come to those that are in pain. Sometimes it takes a lot of prayers and finding help. This book contains kissing, substance abuse, and references to rape.
Online Purchase Links: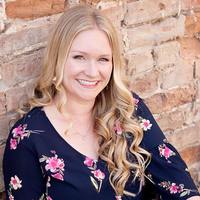 About the Author
: (Taken from Goodreads)
Tiffany Odekirk believes cooking should take less than thirty minutes, frosting is better than ice cream, and all books should end with happily ever after. After graduating from Brigham Young University with a degree in Marriage, Family, and Human Development, Tiffany completed an internship with LDS Family Services in adoption and then went on to work with homeless women and children in the non-profit sector. Married to a Broadway star, Tiffany's days are filled with music, and her nights are spent writing the types of characters she hopes her children will one day marry.
Enter the tour giveaway.
(Winner and the prize will be provided by Covenant Communications.)
a Rafflecopter giveaway