With This Pledge
by
Tamera Alexander
My rating:
5 of 5 stars
Source: Netgalley
Genre: Historical Romance
Book Description
:
On the night of November 30, 1864, a brutal battle in Franklin, Tennessee, all but decimates the Confederacy and nearly kills Captain Roland Ward Jones. A decorated Mississippi sharpshooter, Jones has a vision on the battlefield and, despite the severity of his wounds, believes his life will be spared. But a life without his leg, he can't abide. He compels Elizabeth "Lizzie" Clouston—governess to the McGavock family at the Carnton mansion—to intervene should the surgeon decide to amputate. True to her word, Lizzie speaks on his behalf and saves not only the captain's leg but also his life.
When a fourteen-year-old soldier dies in Lizzie's arms that night, the boy's final words, whispered with urgency, demand that Lizzie deliver them to their intended recipient. But all she has is the boy's first name. And, as she soon discovers, there's no record of him ever having enlisted. How can she set out alone across a land so divided by war and hatred to honor her pledge? Even more, does she dare accept Captain Jones's offer to accompany her? As he coalesces at Carnton, romance has blossomed between him and Lizzie—a woman already betrothed to a man she does not love.
My thoughts: Wow! I am amazed at the depth of this book. You can tell that it was researched and great care was taken to realistically portray the characters in this story. I was further amazed when I read the notes from Tamera Alexander that the characters were real people. Often in historical fiction, events surrounding the central story are real, but the characters are fictional. This information made me love the story even more.
The book takes place during a pivotal and tragic part of the Civil War. My heart ached for the soldiers and their families that lost their lives in Franklin, Tennessee. The images that I was able to picture from the author's descriptions were vivid and horrifying. It is a reminder of the brutality of war.
This book wasn't only about the loss of life. It is a book of hope. Hope for a better future for the characters, particularly the slaves. The author is able to portray the ideals of the time without prejudice. I love her writing for this fact. It was a volatile time for the United States. The war was won, but there are still social issues that have been hard to weed out of our society. She tells the story and shows how God loves His children, faults and all.
If you love historical romance, this book is a winner. I cannot give it a high enough recommendation.
Source: I requested a copy from Netgalley. All thoughts and opinions expressed are my own.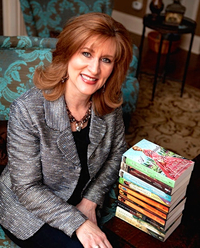 About the Author
: (Taken from Goodreads)
Tamera Alexander is a USA Today bestselling author and one of today's most popular writers in the inspirational historical fiction genre. She and her husband live in Nashville, Tennessee, not far from the Southern mansions that serve as the backdrop for six of her award-winning novels.