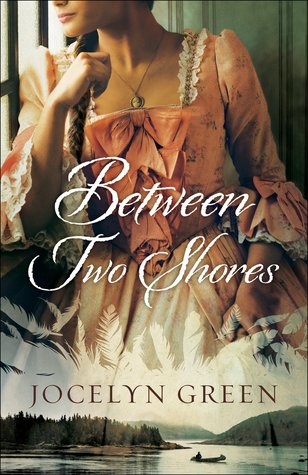 Between Two Shores
by
Jocelyn Green
My rating:
4 of 5 stars
Source: Received to Review
Genre: Historical Fiction
Book Description:
The daughter of a Mohawk mother and French father in 1759 Montreal, Catherine Duval finds it is easier to remain neutral in a world that is tearing itself apart. Content to trade with both the French and the British, Catherine is pulled into the fray against her wishes when her British ex-fiance, Samuel Crane, is taken prisoner by her father. Samuel asks her to help him escape, claiming he has information that could help end the war.
Peace appeals to Catherine, but helping the man who broke her heart does not. She delays . . . until attempts on Samuel's life convince her he's in mortal danger. Against her better judgment she helps him flee by river, using knowledge of the landscape to creep ever closer to freedom. Their time together rekindles feelings she thought long buried, and danger seems to hound their every mile. She's risked becoming a traitor by choosing a side, but will the decision cost her even more than she anticipated?
My thoughts: This book is rich in detail. I was taken on a journey to a time in history that I was not familiar with. The author did a wonderful job of describing the differences in the culture of the British/Mohawk/French/Canadian conflict. I LOVED how she was able to explain the customs and why they reacted differently to situations.
This book is not what I expected. For some reason, I thought it was a romance, but it is not. Love is a central part of the book and the different ways to care about another. Catherine comes to a better understanding of her part in the love of the people she cares about.
I could picture myself there with the characters. Jocelyn Green paints a picture that I could visualize. I don't get that experience with many books that I read.
I give this book a solid recommendation. There is war violence, but it is not described in detail. It also alludes to torture and the taking of scalps.
Online Purchase Links:
About the Author:
(Taken from Amazon)
Jocelyn Green is a former journalist who puts her investigative skills to work in writing both nonfiction and historical fiction to inspire faith and courage.
The honors her books have received include the Christy Award in historical fiction, and gold medals from the Military Writers Society of America and the Advanced Writers and Speakers Association.
Complex and nuanced characters, rich historical detail and twisting plots make her novels immersive experiences. Her fiction has been praised by Historical Novel Society, Romantic Times, Library Journal, historians specializing in her novels' time periods, as well as popular and acclaimed authors Laura Frantz, Lori Benton, Jody Hedlund, Sarah Sundin, Joanne Bischof, Julie Lessman, and more.
Jocelyn loves Broadway musicals, the color red, strawberry-rhubarb pie, Mexican food, and well-done documentaries. She lives in Iowa with her husband, two children, and two cats she should have named Catticus Finch and Purrman Meowville.
Visit her at jocelyngreen.com.