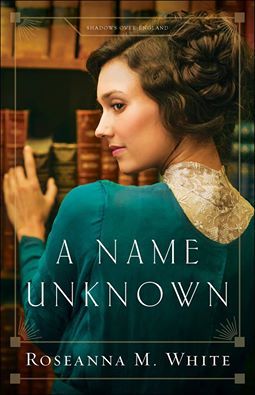 A Name Unknown
by
Roseanna M. White
My rating:
4.5 of 5 stars
Source: Received from the Publisher to Review
Genre: Historical Christian Fiction
Book Description
:
Edwardian Romance and History Gains a Twist of Suspense
Rosemary Gresham has no family beyond the band of former urchins that helped her survive as a girl in the mean streets of London. Grown now, they concentrate on stealing high-value items and have learned how to blend into upper-class society. But when Rosemary must determine whether a certain wealthy gentleman is loyal to Britain or to Germany, she is in for the challenge of a lifetime. How does one steal a family's history, their very name?
Peter Holstein, given his family's German blood, writes his popular series of adventure novels under a pen name. With European politics boiling and his own neighbors suspicious of him, Peter debates whether it might be best to change his name for good. When Rosemary shows up at his door pretending to be a historian and offering to help him trace his family history, his question might be answered.
But as the two work together and Rosemary sees his gracious reaction to his neighbors' scornful attacks, she wonders if her assignment is going down the wrong path. Is it too late to help him prove that he's more than his name?
My thoughts
: I love historical fiction. It is interesting to me that as society, some people many of the same thoughts, ideas, and prejudices that were found in the past. I would have hoped that we would have learned acceptance, rather than using fear to cast judgement.
The most striking idea in
A Name Unknown
was that Peter was held under a microscope because he was of German descent. The time period is just before WWI, and Peter is a citizen of England, with German ancestors. The book is mainly about him trying to prove his loyalty to his country, while others are trying to prove that he is a traitor to England. (I find the parallels to the political situation today startling.) He is greeted with distrust, vandalism, and hate. All the while he is a loyal Englishman who is endearing. He stutters, he does better with the written word, and he has a good heart.
Rosemary was hired, by some 'not so nice men', to dig up proof that Peter is not loyal to the English crown. Peter hired her to look for proof of his families love for England and organization of his library. Rosemary is a woman who is loyal to her family of 'street rats' and will do anything to provide a better life for them. She is an admirable lady, who has not been corrupted by her circumstances.
The book is well written and interesting. The characters are memorable and likable. The book has Christian themes that are not "preachy". This is a great book to pick up!
Online Purchase Links:
Enter to win a copy of the book. Use this LINK!
About the Author:

Roseanna M. White pens her novels beneath her Betsy Ross flag, with her Jane Austen action figure watching over her. When not writing fiction, she's homeschooling her two children, editing and designing, and pretending her house will clean itself. Roseanna is the author of over a dozen historical novels and novellas, ranging from biblical fiction to American-set romances to her British series. Spies and war and mayhem always seem to make their way into her novels . . . to offset her real life, which is blessedly boring. She passes said boring life with her husband and kids in the beautiful mountains of eastern West Virginia.